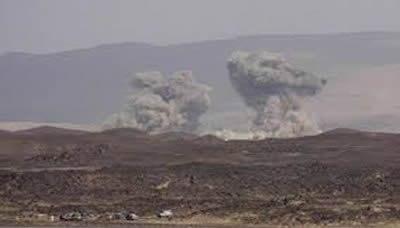 Al-Thawra Net
The US-Saudi aggression coalition warplanes launched 16 raids on separate areas of Marib and Jawf provinces.
A security official told Yemen News Agency (Saba) that the aggression warplanes launched four raids on Medghal district, three raids on Sirwah district, a raid on Majzar district, and a raid on Mahliyah district in Marib province.
The official indicated that the enemy warplanes targeted seven raids Khab Washaaf district in Jawf province.
Meanwhile, the Liaison and Coordination Officers' Operations Room to monitor violations of the aggression in Hodeidah province recorded 58 violations during the past 24 hours. .
A military official said in the operations room that the forces of aggression had established combat fortifications in Hays area in Hodeidah province.
The official pointed out that the aggression forces committed 13 violations with artillery shelling of 68 shells, and 44 violations with various bullets.58 violations of the aggression forces in Hodeidah during the past 24 hours.