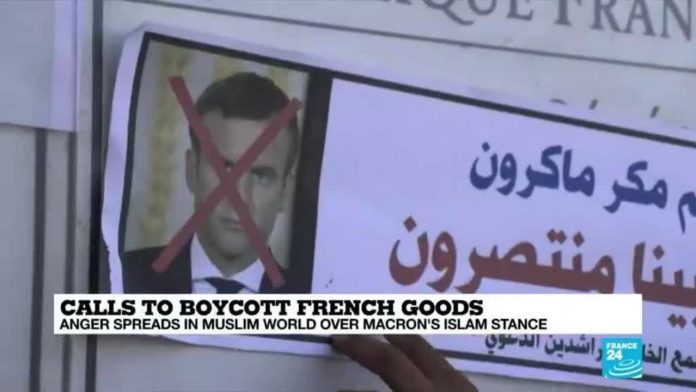 A sources told "Saudi Wikileaks" that the regime authorities have arrested a number of store owners in Riyadh and other regions of the Kingdom against the background of a report against them for placing posters to boycott French products.
The sources added that the regime authorities sent threatening letters verbally and in writing to a large number of merchants warning them against responding to the campaign to boycott French products and threatening them with strict measures against them.
Islamic circles directed sharp criticism of the Al Saud regime against the backdrop of its suspicious silence of France's insults to the Prophet Muhammad and the Islamic religion and its taking strong measures against Paris. On the other hand, Saudi writers attacked the popular campaign calling for a boycott of French products, in protest against the repeated insults of the Islamic religion and the Prophet Muhammad, peace be upon him.
They considered that the campaign aims to disrupt the Saudi and Emirati boycott of Turkish products, which was launched with semi-official sponsorship in Saudi Arabia.
The Saudi writer Turki Al-Hamad said: "Yes, Macron launched a campaign against political Islam and not Islam, but the Brotherhood wanted it to be a campaign against Islam as a whole, in a clear confusion between Islam and the thought of Al-Banna and Qutb. How can you disguise them a little mind."
Al-Hamad's tweet was in response to another Emirati academic, Abdul Khaleq Abdullah, in which he said that the campaign was launched by the "Muslim Brotherhood," and the aim of it was "to trade in religion," not to defend it.
The head of the Abu Dhabi Center for the Arabic Language (affiliated to the Department of Culture and Tourism), Ali bin Tamim, a prominent academic and media, said that he supports the boycott of Turkey "which offends the legacy of the Muhammadiyah message and the heritage of Arabs and Muslims."
He added, "No, but a thousand, no to the campaign to boycott French products, because France sought tirelessly and tirelessly not to depend on extremist Islamic groups that want to monopolize the right and spread strife with falsehood and mirage and fatwas of terrorism."
Saudi writer and journalist members of Al-Ahmari said, "Turkey is the first enemy of Saudi Arabia and its security, not France. The offensive cartoons are an individual act. His conviction is what can be done, and Macron's attack and statements are a natural response to a brutal crime committed by a rogue terrorist. The boycott of Turkey continues, and those who try to dismiss it and reduce its impact with the letter of the compass towards Paris will not succeed."