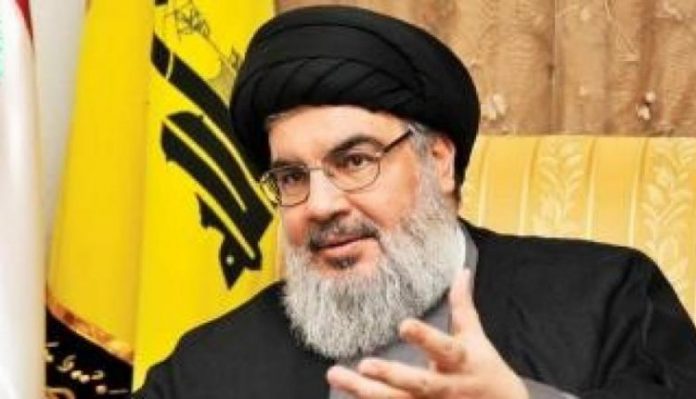 Hezbollah Secretary General, Sayyed Hassan Nasrallah said Sunday that Hezbollah leaders are targeted not only by the Israeli but also by the US, stressing that "targeting Hezbollah leaders is a common Israeli-American-Saudi target."
Saudi Arabia has been instigating to assassinate him for a long time and at a minimum since the war in Yemen.
"I have information that Saudi Arabia has been stirring to assassinate me since the beginning of its war on Yemen, and private sources have informed me that Saudi Crown Prince Mohammad Bin Salman requested my assassination in person during his first visit to Washington and his first meeting with Trump," Sayyed Hassan Nasrallah during an interview al-Mayadeen TV on Sunday nit
Sayyed Nasrallah cited the same sources as saying that Saudi Arabia took it upon itself that in case a war erupts after his assassination, it was ready to pay all the financial costs for this war.
"Saudi Arabia, especially in recent years, Doesn't act with reason, but with awe" he said, stressing that America, Israel and Saudi Arabia are partners in the crime of assassination of the leaders Qassem Soleimani and Abu Mahdi al-Muhandis."
"The assassination of leaders Soleimani and al-Muhandis was an open operation other than the assassination of martyrs Mughniyeh and FakhriZadeh," Nasrallah said.
When talking about martyr Soleimani, Sayyed Nasrallah said that "Soleimani had charisma and great ability to influence and a distinguished he was human figure."
He described the martyr as a very special person on the level of ethics. He also referred to him as a charismatic person who had the ability to influence all those who had to know him.
"On the military level, martyr Soleimani was a strategic and tactical leader at the same time," Sayyed Nasrullah noted.
Describing the time that preceded the martyrdom, Sayyed Nasrallah said that he was very worried about him and he has warned him repeatedly.
Regarding the outgoing Trump administration, Nasrallah said, "With a figure like U.S. President Donald Trump, he's is megalomaniacal and in an unforeseeable state of anger that nothing can be expected."
"Everything that has been said so far about what Trump can offer in his final days is still being analyzed." We have to deal with the remainder of Trump's term with caution and care."
With regard to the Zionist entity threats, Sayyed Nasrallah said that "all the threats you hear from the enemy are because it knows that we will retaliate for its killing of our martyr in Syria. We are keeping our promise to respond to the 'Israeli' enemy's killing of martyr Ali Mohsen."
On the visit of US Chairman of the Joint Chiefs of Staff Mark Milley to Israel, Nasrallah said: "It is linked to the new administration and its approach to the Israeli-Palestinian conflict." He stressed that Milly came "at the request of the Biden administration to allay Israeli concerns."
Nasrallah stressed that everything that is said about assassinations is based on logical analysis but not sensory information.
Regarding the Yemeni File, he said " The File of Yemen is negotiated by the Yemenis, Iran does not see it as authorized to negotiate it, and Iran does not sell and buy at the expense of the people of the region.
He added: The United Nations in Yemen is cold and not serious about resolving the situation, Iran has informed the Europeans that it is not interested in negotiating in behalf of the Yemenis or others.