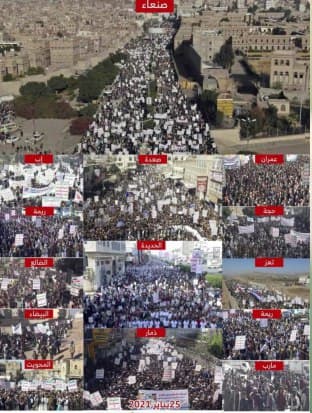 Massive rallies have been held all over Yemen rejecting the US and Saudi terrorism, blockade and the crimes committed by the Saudi-led coalition against innocent civilians.
On Monday, millions of the Yemeni people from all over the country flocked into 24 squares across 12 provinces to take part in the protests titled "The American siege and aggression are terrorist crimes".
The protesters chanted slogans and raised banners condemning the US policies and terrorism against the Yemeni people, and rejected the hegemony of the global arrogance forces.
They emphasised that the US is the "mother of terrorism and the main supporter for it in many countries of the world," pointing out that the coalition of aggression against Yemen enjoys the care and support of the United States of America.