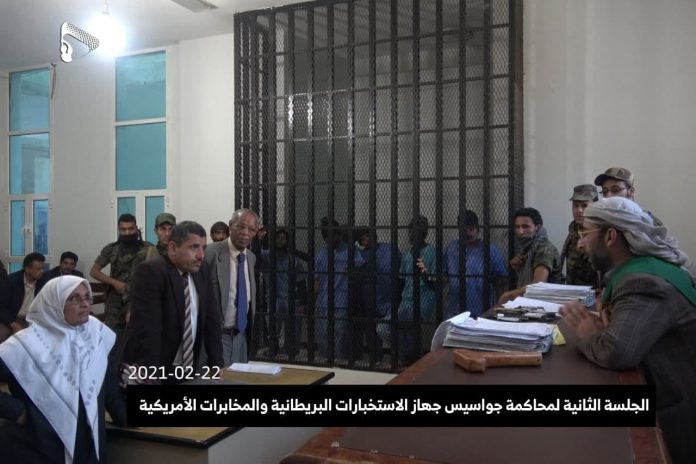 The Criminal Court in the capital Sana'a has continued to try spies over espionage and sabotage activity for a number of CIA officers and the British intelligence on the territory of the Republic of Yemen.
The court held its second session on Monday and confronted defendants with evidence provided by the Public Prosecution which indicates the direct US and British role in recruiting, training, and directing spies to carry out espionage and sabotage against Yemen.
During the hearing, the Public Prosecution reviewed a video recording containing detailed confessions of the defendants showing the stages of their espionage and subversive activities, starting with their recruitment and training and ending with the distribution of their roles and their subversive acts on the ground under the supervision of the commander of the British Intelligence Bureau located in a military base set up by the states of aggression in Ghayda city, the capital of Mahrah province.
The defendants' confessions also refer to the American and British role in carrying out many espionage and sabotage operations in the various provinces of Yemen through their espionage elements.
At the end of the session, the court set the date for its next session to complete the defendants' procedures.
The Security and Intelligence Service calls on anyone involved in sabotage or espionage acts for the benefit of the hostile intelligence services to quickly surrender himself to benefit from the exemptions stipulated in Article 130 of the Penal Code of Yemen.
It also called on all citizens to beware of suspicious calls or contact with unknown elements as well as to report any information for any suspicious move that may harm Yemen via calling the toll-free number 100.
The Security and Intelligence Service confirmed a video recording showing part of the confessions of the defendants will be published via various media outlets at 3 pm on Tuesday.