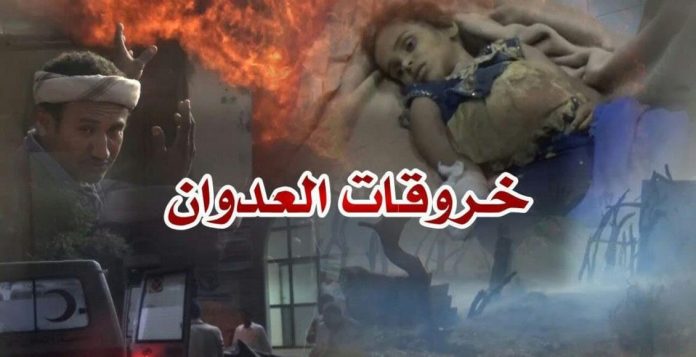 The Saudi-led aggression forces continued on Sunday to violate the UN-sponsored ceasefire agreement in Hodeidah province, a military official said on Monday.
The official added the aggression forces committed 117 violations, including the creation of combat fortifications in al-Faza, 11 violations with missile and artillery shelling, and 73 violations with various bullets.
He said the violations included 2 raids on al-Salif, dropping five shells on Hays and al-Faza areas while spy planes flew most of the areas in Hodeidah.
On the other hand, the US-Saudi aggression fighter jets launched a raid on Bani Hasan area in Abs district of Hajjah province, and 2 raids on poultry farms in Khamer district of Amran province.
The aggression fighter jets launched two raids on Sana'a airport, two raids on al-Nahda neighborhood, four raids on al-Nahdain area, and three raids on al-Hafa area in the capital Sana'a, as well as two raids on Jarban area in Sanhan district of Sana'a province, according to the official.
He indicated that the aggression fighter jets launched 13 raids on Marib province on Sirwah district and four raids on the districts of Majzar and Medghal and two raids on Rahba district.
The official stated the aggression fighter jets hit al-Marazeq area in Khab Washa'af district in Jawf province with three raids. The aggression's raids caused heavy damage to civilians" properties.