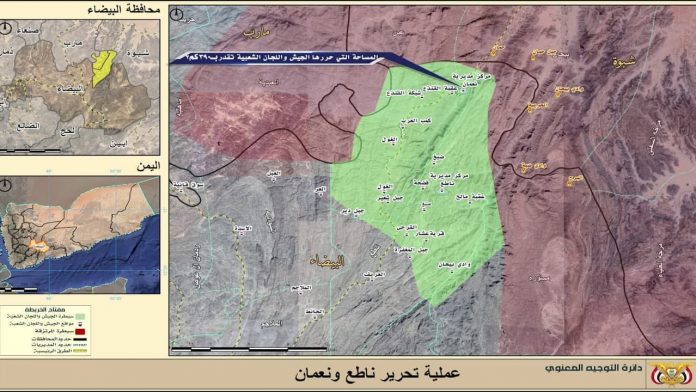 The spokesman of the Yemeni Armed Forces, Brigadier General Yahya Sare'e, has on Saturday revealed details of the second phase of a military operation Dubbed "Al-Nasr Al-Mubin", which was carried out by the Yemeni army and the Popular Committees in Bayda province.
In a press statement, Brigadier General Yahya Sare'e, said that that the second phase of the operation, which began on July 20 and lasted for several days and the various units of the armed forces participated in its implementation, achieved all its objectives.
He indicated that the districts of Al-Sawma'ah, Al-Zahir, Na'man and Nata'a were liberated during the two phases of the operation, and the total area liberated during the two phases amounts to 500 square kilometers.
Brigadier General confirmed that takfiri gangs (ISIS and al-Qaeda) suffered heavy losses.
He confirmed the killing of 160 Takfiri elements, wounding more than 200, and capturing dozens of them during the second phase of the operation, in addition to damaging and burning dozens of vehicles and armored vehicles and seizing various quantities of weapons.
Sare'e indicated that "the air force and missile force" carried out 32 operations, in which the Air force carried out 19 attacks against the enemy forces, including reconnaissance and monitoring operations, while the missile force carried out 13 strikes, using Badr and Saeer type ballistic missiles.
The Saudi-led coalition had been supporting takfiri groups with weapons and logistical support, as well as facilitating the safe exit for dozens of the terrorist fighters into the occupied areas, he said.
The Yemeni military spokesman noted that Saudi-led aggression warplanes carried out more than 67 airstrikes in support of takfiri groups during the battle.
The spokesman confirmed that the armed forces, with the support of the people of Bayda province and its honorable tribes, would continue to cleanse the remaining areas of these elements.