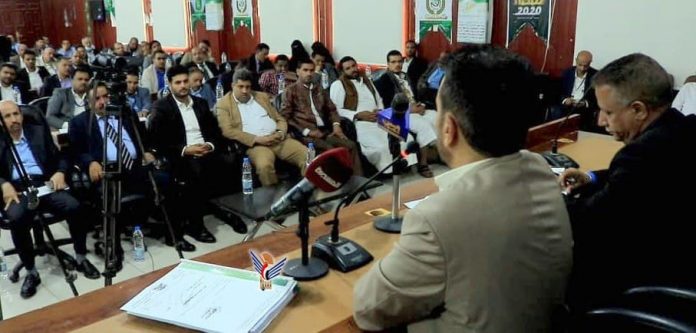 Minister of Public Health and Population Dr. Taha al-Mutawakil called on Wednesday the private sector to invest in the medical field, especially in heart surgery, children, tumors, kidneys, liver transplantation and other specialized fields.
During an expanded meeting of the leaders of the Special Union for  reviewing and evaluating hospitals and steps to implement the second phase of pricing services in health facilities, Minister al-Mutawakil stressed the ministry's readiness to provide facilities to open specialized centers according to the ministry's standards, given the country's need in light of the continued closure of Sana'a International Airport.
Al-Mutawakil pointed to the ministry's keenness to continuously evaluate the performance and quality of hospital services to avoid the negatives that accompanied the work during the past period.
He pointed out that the evaluation of medical facilities and the implementation of the second phase of pricing services in the field of obstetrics and gynecology and general surgery will begin after the implementation of the first phase represented in the pricing of centers Diagnostic and laboratory.
The Minister of Health also stressed that during the current year, the focus will be on the performance of hospitals, regarding medical errors and how to deal with the disease, pointing out the importance of strengthening the partnership between the ministry and the private sector to alleviate the suffering of patients in light of the current conditions the country is going through.
He warned hospitals that are not committed to the ministry's directives and standards and took legal measures against violators during the next few days.
He reiterated the importance of infection control as a fundamental issue during the current stage, and the activation of clinical pharmacy because of its important role in serving patients.
The Minister of Health also stressed the importance of adhering to professional ethics and providing health care services to citizens by focusing more on the human side of medical work, stressing that professional ethics is an integral part of practicing medicine and health professions.