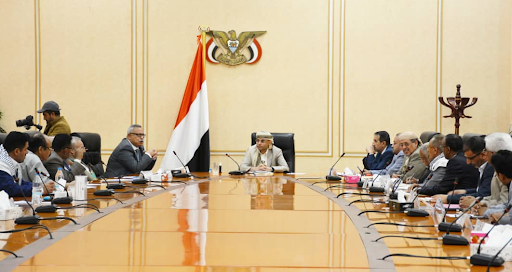 President of the Supreme Political Council Mahdi al-Mashat has directed the adoption of the Hijri date in all state transactions.
While presiding over a cabinet meeting on Wednesday, the president also directed that the educational process should be started from the holy month of Muharram until the beginning of Ramadan each year.
Al-Mashat stressed the will of the Yemeni people is freedom from guardianship and independence should be the title of our Yemeni revolutions.
He stressed that everyone is interested in continuing to stand firm until victory is achieved in the favor of the Yemeni people and the responsibility requires us to continue efforts to serve the citizen and the country with the utmost effort possible.
"On the occasion of our people's celebrations of the Yemeni revolutions, the President called on all ministers of the National Salvation Government to review their performance and evaluate their duties and must know their success and their failure in the state's positions.
"I know that there are problems facing everyone, starting with the President of the Supreme Political Council, the prime minister, and his  deputy prime ministers, but these problems should not be an obstacle to us, no matter what, because the man of responsibility is the one who overcomes all difficulties and challenges."
He continued "If we are ready to assume responsibility, let us start a new page called the Man of Responsibility."
He stressed the need for "everyone to realize that we are going through an exceptional situation, which requires everyone to devise solutions and find alternatives, in order to move forward despite all the challenges and difficulties."
"The homeland is at a crossroads, either we build our country despite all the difficulties, or we give up, and everyone knows the cost of surrender," al-Mashat said.
He said: "We are not waiting for a breakthrough from the United Nations or any external party, but rather we are waiting for a breakthrough from the efforts of the hands of our people, topped by the Prime Minister and his government.
He added the pressures exerted by the countries of aggression on Yemen is be the most successful way to motivate the people to produce and achieve successes in all military, economic and other fields.