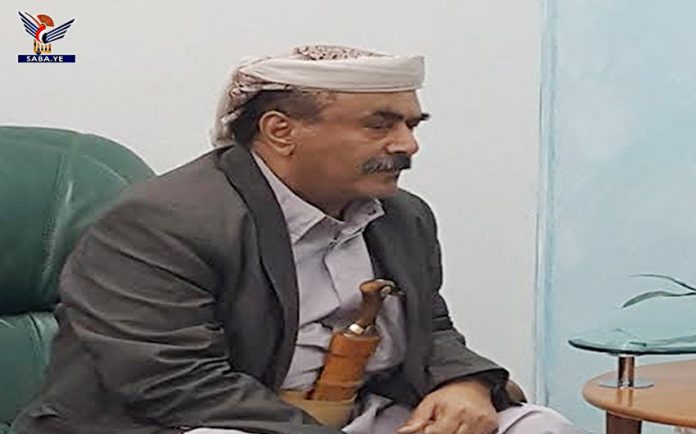 Shabwa governor, Awad bin Farid Al-Awlaki, praised on Friday the Qena operation, which thwarted an attempt to loot an oil shipment from the coast of the province by the forces of invasion and occupation.
In a statement posted by the Yemeni News Agency, the governor, appointed by Sanaa, affirmed the absolute rejection of all foreign moves aimed at looting Shabwa's oil and gas, calling on foreign oil companies and their agents working in oil production in al-Uqla sector and west of Ayyad to immediately stop and comply with Sanaa's decision to stop oil production and export so as not to run any risks.
"The attempt to loot crude oil from the primitive "Qana" port confirms that the forces of aggression and mercenaries resorted to the smuggling ports that were used by the oil mafia over the past years," said he, noting that the decision to protect the sovereign wealth in the province was correct and studied to meet the demands of the people of the province who they had previously called for an end of the looting of oil.
The governor called on Shabwa tribes to reveal any looting of the oil wealth in the province, stressing that the bloody and destructive conflicts by the forces of invasion and occupation in the province primarily have been motivated by their ambitions for Shabwa liquefied oil and gas.
Al-Awlaki called on the tribes of the province to turn behind Sanaa's serious approach to halting oil production and export, in order to know the fate of the huge revenues that were looted during the last years, and to determine the fate of the sales of this important resource that the people of the province and all Yemenis being deprived of.
"We warn tools' aggression against bringing any invading foreign forces to the province," he added. All military movements taking place in Shabwa are monitored by the national forces in Sanaa."
The governor also called on all foreign shipping companies to refrain from entering the ports of Nashima, Qana, or Balhaf to load any oil or gas shipments, unless they obtain a prior approval from the Sanaa government in order not to be exposed to danger.