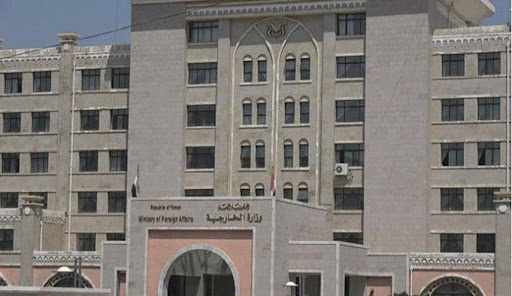 The Ministry of Foreign Affairs affirmed that the US President's statement implicitly condemning Sanaa's right to defend its people and lands and to confront the foreign aggression led by the US clearly reveals the nature of the American role obstructing peace in Yemen.
"The US President's statement also reveals Washington's insistence on continuing its criminal aggression against Yemen," the Ministry of Foreign Affairs stated in a statement on Wednesday evening. "As if the US has not yet been satisfied with the war crimes against humanity it has committed against the Yemenis, including its shameful role in killing tens of thousands of children, women and innocent civilians, and in the unjust siege that created the worst humanitarian crisis in the world in the last 100 years."
The Ministry statement indicated that the US President, by remembering what the UAE was subjected to from a natural and legitimate Yemeni response a year ago, is trying again to implicate the UAE and other aggressive countries more and more and encourage them to continue aggression and obstruct the current peace efforts.
The statement emphasized that the statement of US President Joe Biden lacks credibility because the security and safety of the UAE is achieved only by encouraging it to peace, ending its military presence and its partnership in the aggression against Yemen.
"It is not by reassuring it or pledging to protect it, because no force on earth can prevent the Yemeni People from defending themselves," it added.
The statement pointed out that engaging in efforts for a just and lasting peace is the only option available for the security and safety of the countries and peoples of the region, and this is what Sana'a has been calling for, adhering to and striving for for eight years.
The Ministry of Foreign Affairs reaffirmed the right of Yemen to defend its people, waters and lands, and to confront firmly and rigorously any hostile action from any side. It stressed Yemen's great rejection and disapproval of all attempts to undermine the sanctity of this right that has been accumulated by the norms and laws of humanity.