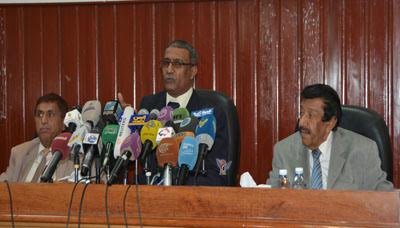 Althawra Net
Acting Minister Of Health And Population, Dr. Gazhi Esmail said that the Saudi aggression jets destroyed over than 340 hospitals and health centers .
In a press conference held today in Sana'a Dr. Esmail said that the Saudi blockade in Yemen led to the absence of the petroleum products and medical supplies that cause the death of many patients who had diabetics, heart diseases, kidney filer and cancer.
"This conference aims to show the world the suffering of Yemeni people because of the American Saudi aggression that is targeting women, children and facilities," he added.
Esmail pointed out that the 325 days left 7,000 dead, 16,000 wounded and 174 handicapped.
In his part, the acting minister of the human rights, Ali Saleh Taiseer explained the importance to reveal the facts and dimensions of the conspiracy that the Yemeni people is suffering as well as describing the ugliness of the violations and the destruction caused by the US-Saudi aggression.