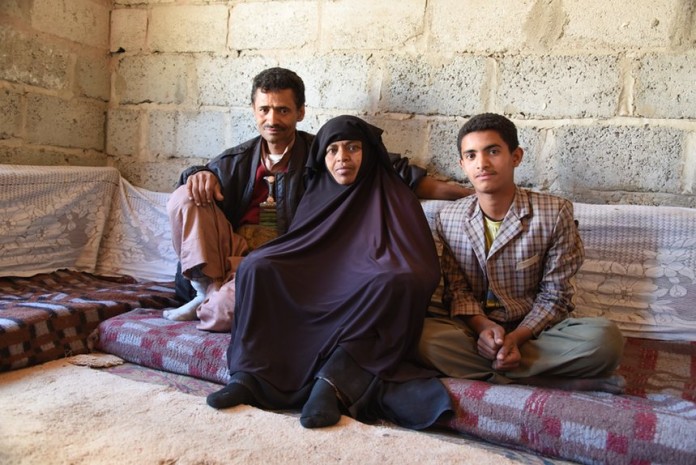 Al-Thawra Net
The first thing I noticed was the destroyed airport. I flew in to Yemen on a small aircraft chartered by the UN Humanitarian Air Service with a handful of other aid workers – at the time the only way for foreigners to make it to Sana'a. It felt surreal landing among other destroyed aircraft and the skeleton of what was once an international airport terminal.
On the way to the city, it was the types of places that had been bombed that really struck me: fuel stations, bridges, roads, factories. Instead of coffee kiosks the streets are now lined with mobile fuel sellers, as the Saudi-led blockade has made Yemenis turn to the black market for their essential daily needs.
Government and military buildings have become regular targets in the daily air strikes. Even when the attacks do not target civilians directly, it is always the innocent families who get hit in one way or another, and the effects are always devastating.
That's what happened to Mahmoud Zeid last June. He was queuing to get cooking gas when an airstrike hit. Rushing to his home, he found his two-room house overwhelmed with fumes, all windows destroyed, part of the roof gone. His frail wife, Sabah, who suffers from kidney failure, had passed out. His children were terrified, trying to revive their mother while thinking of where to flee. There was shrapnel everywhere, kilometres away from the bombing site, and hundreds of families staggering through the rubble towards some place of safety.
Zeid and his family walked to a school a few kilometres away, where they took refuge for months, sleeping in a classroom with other displaced families. On their first night, they slept on the floor, until they came by some blankets. The mother lost some of her kidney dialysis sessions, leaving her weaker.
I met them back in their house, where they returned after a few months, the windows still broken and the damaged parts of the roof patched with wood. They told me they've never been poorer. Zeid used to work as a tailor before the war and blockade started a year ago, but with no electricity in Sana'a and people having lost most of their spending power, the business had to close down.
"I can create anything: shirts, trousers, bags, but there's no work right now," he told me in tears. "As a father, as the head of the family … I can't deal with this."
Since the war started, they have had to pay for all of his wife's medications, services and medical disposables used for her dialysis. She is weaker than ever, and keeps missing dialysis sessions when they don't have money for the transport.
The Norwegian Refugee Council, together with support from United Nations World Food Programme, provides them with food aid, but they don't even have the fuel to cook their dinner. While we spoke, Sabah was burning cardboard pieces, plastic and whatever they could find in streets, so that she could cook for the family.
As if Yemen – already the poorest country in the region – was not marginalised enough, the escalation in the conflict and blockade over the last year has pushed it even further out of sight but also further into poverty and desperation.
So much of what I saw during my 10 days in Sana'a reminded me of Gaza, where I lived for four years. The blockade and the massive poverty brought overnight because of it. The attacks on civilian infrastructure – from hospitals and schools to bowling alleys. And the sheer impunity with which all this happens. The air strikes at night keeps everyone guessing what the latest target is.
But there is also a touching, overwhelming warmth that makes the Palestinians in Gaza and the Yemenis so similar. The more people are forcibly cut off from the rest of humanity through man-made barriers, the more they value the little details that make us human.
I cannot but admit failure in my job, in helping in any way to bring Yemen closer to the lucky, wealthier side of humanity. Even for those obsessed with raising walls and closing borders in Europe, Yemen doesn't even feature because barely any Yemenis make it to Europe. There are 21 million people now in urgent need of humanitarian aid, more than 80% of the entire population. Half of them are suffering from hunger. But figures don't move people.
As our driver Ziyaad took me back to the airport at the end of my stay, he asked a painful question: "I understand your job is to bring attention to our situation, but how do you do it? Nobody cares. We've been in this war for almost a year and everyone has forgotten us."
The Guardian