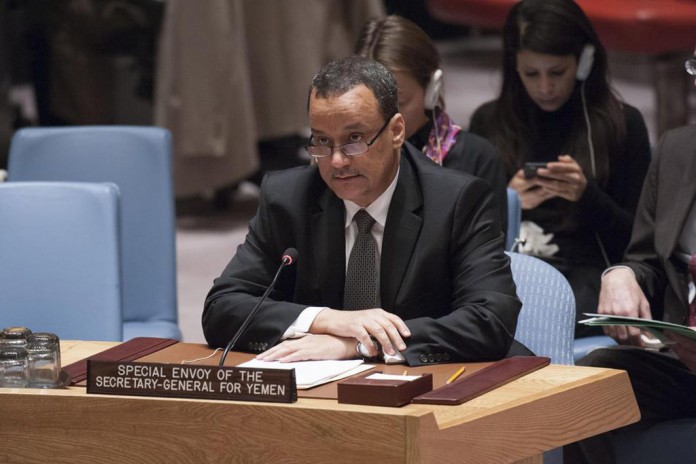 Al-Thawra Net
The U.N. envoy for Yemen appealed to the warring parties on Tuesday to finalize a peace deal as soon as possible, saying slow progress has been made in the past two months and it's now time for concessions on the toughest issues.
Ismail Ould Cheikh Ahmed told the U.N. Security Council that the opposing parties Ansaruallah and their allies and Hadi allies have responded positively to a proposed roadmap he presented to end the conflict, according to ABC News.
But Cheikh Ahmed said by video link from Kuwait where the talks have been taking place that the two sides have not yet agreed on the timeline and sequencing of the steps in the roadmap — including when a national unity government would be created.
Both sides "have demonstrated over the past weeks a true commitment to make peace, and a political wisdom in negotiations, which did not shy away from broaching sensitive and complicated issues," Cheikh Ahmed said. "I am reassured by the commitment of the two delegations, but I am appealing to them to finalize these difficult negotiations and reach a comprehensive settlement as soon as possible."
France's U.N. Ambassador Francois Delattre said the talks are at "a critical juncture" and the parties need to engage seriously and "show flexibility to find a durable peace." He warned that every passing day with more war "makes terrorist groups" such as the Islamic State and al-Qaida, stronger.
The Security Council later stressed that there is no alternative to a political solution and urged the parties to reach a peace agreement, comply with the cessation of hostilities and respect humanitarian law. It also expressed strong concern over attacks by extremist groups.
Cheikh Ahmed cited credible reports from international aid organizations "warning of a humanitarian catastrophe, should the situation not be addressed rapidly." According to the U.N., more than 80 percent of Yemenis are in dire need of food, water and other aid.
The U.N. envoy said high temperatures and the lack of electricity in Aden, Hodayda and elsewhere "have exacerbated the health crisis in these areas and caused a number of preventable deaths." Since the beginning of 2016, he added, Yemen's economy has shrunk by more than 30 percent which is "alarming" given that the country imports basic commodities such as rice, wheat and medicine.
Cheikh Ahmed said that in the next few days he will provide the Yemeni parties with a written proposal for the uncoming period before consultations resume after a short break for both sides to consult their leaders.