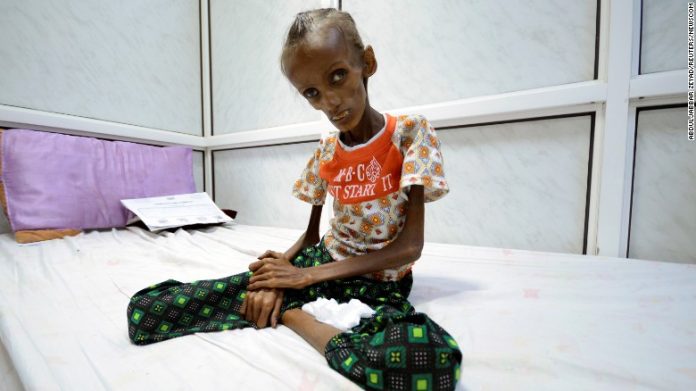 Al-Thawra Net
"Saida Ahmad Baghili's piercing eyes look up from a Yemen hospital bed as if pleading for help," James Masters, a CNN reporter, started his report.
On October 27, CNN published a report about the food crisis that came within the forgotten war in Yemen.
"Baghili is 18, but the children's clothes that drape her emaciated body appear too large for her in photos released this week. She is being treated for severe malnutrition at al-Thawra hospital in the Red Sea port severely malnourished, Saida Ahmad Baghili, 18, sits on a bed at a hospital in Hodeida, Yemen," the reporter said.
As the food crisis grows worse for Baghili and other Yemenis, the UN World Food Program fears the devastating toll that hunger could have on the war-torn country.
The organization said it has provided food for more than 3 million people each month since February but is beginning to struggle.
It has split these rations so it can reach 6 million people every month, but resources are beginning to run out.
"An entire generation could be crippled by hunger," Torben Due, the program's director in Yemen, said in a statement.
Baghili is being treated for severe malnutrition at al-Thawra hospital in Hodeida.
"We need to scale up our life-saving assistance to reach more people with timely food assistance and preventive treatment. We appeal to the international community to support the people of Yemen.
"We need to provide a full ration to every family in need, but sadly we have had to reduce the size of the food basket and split assistance between impoverished families to meet growing need."
As CNN wrote that "Yemen – the forgotten war", the fighting has led the World Food Program struggling to cope with the demand.
A 3-year-old is treated in Hajjah. In some areas, malnutrition among children under 5 is at a high.
The program aims to prevent malnutrition and treat around 700,000 children under the age of 5, pregnant women and nursing mothers.
It battles acute malnutrition, also known as wasting, carrying out its work through local partners in 2,200 health centers in 14 areas across Yemen.
Yemen had one of the highest rates of malnutrition in the world before the current conflict, according to the WFP.
According to the report, The UN program cites areas of Yemen such as Hodeida, where global acute malnutrition rates among children under 5 have reached 31% – more than double the emergency threshold of 15%
According to a June report, 14.1 million people in Yemen are what's known as "food insecure," including 7 million who are severely food insecure.
In some areas of the country, 70% of the population struggle to feed themselves.
The World Food Program said it needs more than $257 million to give food assistance until March.
Ihsan, a 26-year-old mother, told the World Food Program that she borrowed money from neighbors to take her malnourished son to a hospital.
The report conclude by Ihsan's quote "I am breast-feeding him, but he is slipping away from us and losing more weight every day," she said. "I hardly have food to feed my children, let alone to eat well."