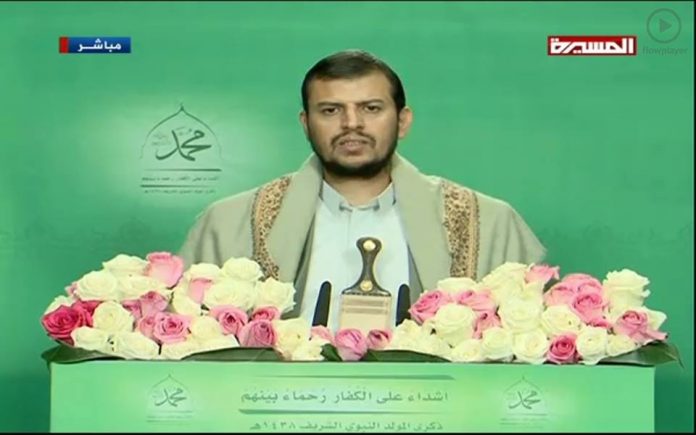 Al-Thawra Net
Abdul-Malik Badreddin al-Houthi, the  leader of Ansarullah, said In a televised speech on Sunday, the people of Yemen would stand firm despite Riyadh's "threats and sanctions."
Houthi made the remarks in an address to Yemenis on the occasion of the birth anniversary of Prophet Mohammad (PBUH).
He described Saudi Arabia as a "bad neighbor" to Yemen, saying that the Riyadh regime was a "hypocritical system."
The Houthi leader also praised the Yemeni people's solidarity and unity against Saudi war machine, while hailing the Yemeni army and Popular Committees for their fighting, with all power, against the invading enemy.
"We do not kneel before the enemy. We will not surrender. Allah will be with us," he said,
He also noted that Yemen would fight back as long as the Saudi regime continued its aggression against the nation.
Houthi said Yemenis would stand with Palestinians against the Israeli regime and would not leave them alone.
"Although Yemeni people are concerned with their fight against the invading Saudis, they are also concerned with some central issues, including the oppressed Palestinian people and the occupation of al-Aqsa Mosque and the holy sites in Palestine. We affirm our sincere support for the Palestinian people and the Lebanese resistance," he stated.
The Houthi leader described the Daesh Takfiri terrorist group as a joint "project" implemented by the United States and Israel that is supported by the two in wreaking havoc in the region.