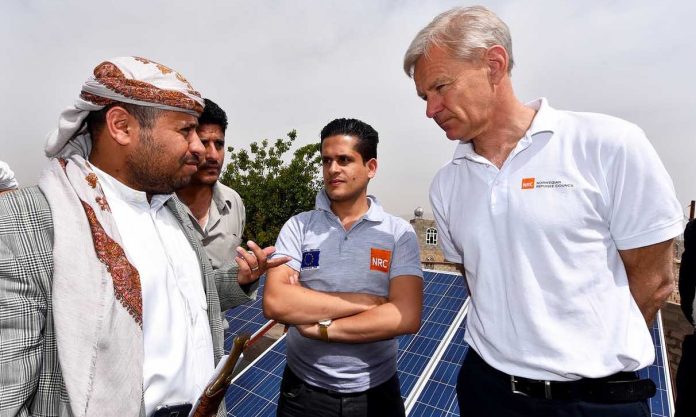 Al-Thawra Net
One of Europe's most experienced diplomats has said he was "shocked to the bones" by the hunger he saw in Yemen.
Jan Egeland, the current head of the Norwegian Refugee Council, condemned "this gigantic failure of international diplomacy" and said that only 3 million people out of the 7 million people who were starving had been fed last month.
"Men with guns and power inside Yemen as well as in regional and international capitals are undermining every effort to avert an entirely preventable famine," he said to the guardian , "as well as the collapse of health and education services for millions of children."
In April, the World Food Programme could only afford to feed 3 million men, women and children in Yemen – a country said to be on the brink of famine – due to a lack of resources and the late arrival of food shipments, the organisation said.
The secretary general of the NRC is on a five-day visit to the country. "I am shocked to my bones by what I have seen and heard here in war- and hunger-stricken Yemen. The world is letting some 7 million men, women and children slowly but surely be engulfed by unprecedented famine. It is not a drought that is at fault. This preventable catastrophe is man-made from A to Z."
An estimated 19 million people in a country with a total population of roughly 27 million are in need of some form of aid, according to the UN. The price of basic commodities has risen by a third.
Egeland said he met teachers, health workers and engineers who had not been paid for eight months and were struggling to survive.
He said: "An aid worker told me the fear and desperation among civilians is now so great that mothers with acutely undernourished children grab their kids from hospital beds when they hear the war planes flying over."
He said: "Nowhere on Earth are as many lives at risk. We are not even sure that the main humanitarian lifeline through the port of Hodeida will be kept open."
António Guterres, the UN secretary general, has warned that Yemen is facing a "tragedy of immense proportions", with a child under five dying of preventable causes every 10 minutes on average.