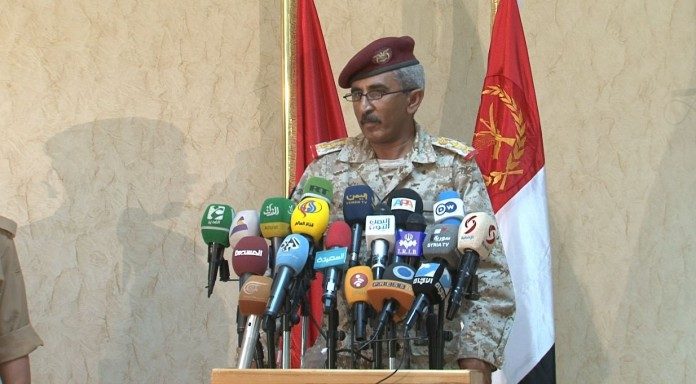 Al-Thawra Net
The official spokesman of the armed forces, Gen. Sharaf Ghalib Luqman, confirmed that Yemen's response to the escalation of the Saudi-American aggression coalition in the past few hours has been strong and painful, both in the Saudi depth and at the level of the internal fronts.
In a statement to Saba news agency, Brigadier-General Luqman said that that rocket strikes on the vital and military areas of Yanbu or Taif and targeting of the Yemeni naval forces of warships of the aggression forces at sea were outstanding and come within the response and deterrence operations and will not stop until the cessation of aggression.
"The military operations in Jizan and Najran are proceeding according to the strategic objectives for military resolution and depriving the enemy of achieving its objectives in the occupation of Yemeni positions and short supply lines, " Gen. Sharaf Ghalib Luqman said
"In these battles, the Saudi enemy is suffering of massive losses in lives and military equipments, and it did not expect the losses and no longer has the element of surprise, despite of the intensive air cover," he added
Lokman indicated that the units stationed in their positions on the internal fronts were able to stop the advance of the aggression forces and create the right conditions for the counter-strike.
He pointed out that the defense formations of the army and popular committees' forces were monitoring the movements of mercenaries towards Khalid camp in Taiz front in which the army and popular committees carried out offensive strikes against the Saudi-American mercenaries, killing and injuring hundreds of them and destroying and burning their mechanisms, asserting that there is no truth to any claimed victory by the mercenaries of the aggression.