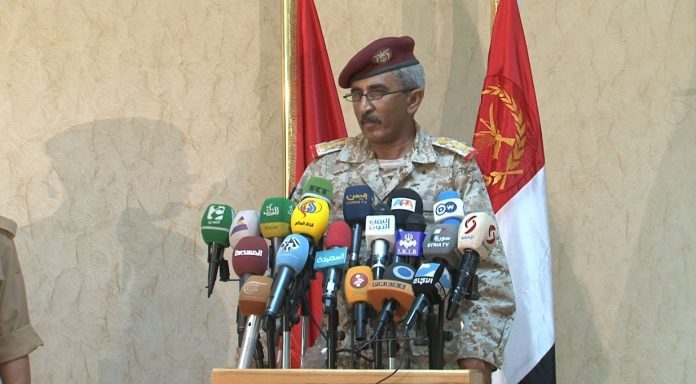 Al-Thawra Net
Gen. Sharaf Ghalib Luqman, Yemeni Armed Forces Spokesman accused the forces of the aggression coalition of targeting a Libyan oil vessel in Bab al-Mandab , was coming from Iran, in order to gain international support for its possible escalation to target Hodeida and the western coasts.
In a statement to Saba News Agency, B.G Sharaf Ghaleb Luqman said that "the targeting of the Libyan ship is a confirmed crime, and we strongly condemn, as it has been targeted by the same weapon and method that targets and destroys the capabilities and property of Yemen, but the targeting of the Libyan ship was for deception in order to accuse Yemen of a crime which is not committed."
"Nothing new for what the alliance of aggression claims of these lies to justify attacking Hodeida province, but it is so wired that it coincides with a British government's warning of commercial vessels passing through Bab al – Mandab and the Gulf of Aden, the possibility of being attacked by bombed-boats or rockets as a result of military confrontations," Luqman added
The official spokesman of the armed forces stressed that the poor means used by the Saudi-led coalition aggression to access to al-Hodeida are a natural consequence of constant defeats on all internal fronts and beyond borders.
Local and international public opinion has become fully convinced of the absurdity of this unjust war against Yemen, and it is also futile to continue to charge the army and of the people's Committees, who defend with honor and pride the sovereignty and dignity of their lands, stressing that there is no any posing threat to the international navigation.
" What is being targeted are hostile warships  belong to the aggression forces  when they enter  Yemeni territorial waters in a state of hostility towards Yemen, its people and its territory," the spokesman of the armed forces said