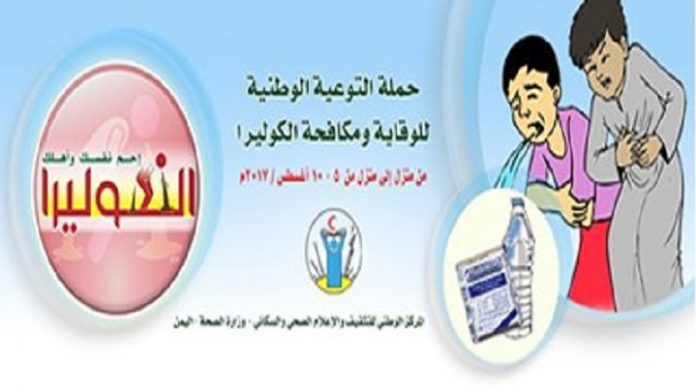 Al-Thawra Net
The national campaign for environmental awareness and sanitation to control the cholera epidemic from house to house will be kicked off next Saturday in the capital Sana'a and all provinces of the republic.
The campaign is aiming to raise awareness about the cholera epidemic and how to prevent it, and motivating the society to contribute positively to its control and raising awareness about environmental sanitation issues. The campaign will be carried out by the Ministry of Public Health and Population, headed by the National Center for Health Education and Information, in cooperation with WHO and UNICEF.
It will include the distribution of protective materials to each house such as soap, irrigation solution and zinc, which are the first ambulatory treatment to sustain the lives of cholera sufferers, as well as the assessment, survey and knowledge of all water sources in the high-risk directorates of 98 directorates to take the necessary procedures and treatments for purification, sterilization and preservation of contamination with the participation of a technical team from the Ministry of Water and Environment.
More than 71,000 health workers, teachers, volunteers and members of local councils in the governorates, directorates and executive offices will participate in the campaign, and will run by an administrative team in each province concerned with health, water and environment, WAQF, media, education and local authorities.
Moreover, at least 6, 660 of religious preachers from all districts are participating in awareness raising and mobilizing the popular efforts of citizens to contribute in combating the epidemic and maintaining the cleanliness of districts, neighborhoods and villages.
Cholera is an extremely virulent disease that can cause severe acute watery diarrhoea. It takes between 12 hours and 5 days for a person to show symptoms after ingesting contaminated food or water (2). Cholera affects both children and adults and can kill within hours if untreated.
Common symptoms of cholera include:
sudden onset of diarrhea
nausea
vomiting
mild to severe dehydration
Cholera prevention means  simply summarized in washing hands with soap and water, drinking clean and sterilized water, removing stagnant pools and pools, cleaning tanks and containers for keeping water in homes and facilities, using detergents regularly and covering them tightly to protect them from contamination and transport. Clean water with clean utensils and close tightly.