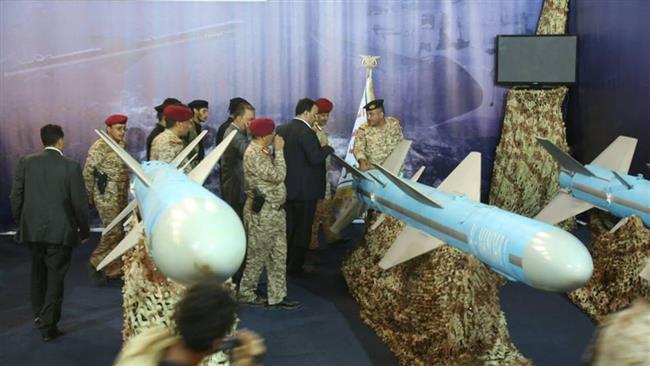 Al-Thawra Net
Senior Yemeni officials and military commanders of the Houthi Ansarullah movement have inspected domestically-manufactured naval missiles showcased by Yemen's armed forces at an exhibition in the western port city of Hudaydah.
Saleh al-Sammad, the president of Yemen's Supreme Political Council, was among the officials visiting the exhibit, during which the missiles belonging to the country's Navy and Coastguard were put on display, the official news agency Saba' Net reported on Monday.
Speaking during the event, a senior Yemeni navy commander said the "high-precision" missiles, dubbed Mandab 1, were manufactured domestically.
Ansarullah, the national army and popular groups have joined forces to defend the country against an ongoing brutal military campaign launched in 2015 by the Saudi kingdom and a coalition of its allies with the aim of reinstalling the former Riyadh-backed government in Yemen.
Yemen's stiff resistance has prevented Saudi Arabia from achieving the goals of war, despite spending billions of dollars and enlisting the cooperation of Western countries, particularly the US and the UK.
The exhibition was held a day after the Yemeni army said that it had targeted Saudi Arabia's King Khalid International Airport in Riyadh with a long-distance Borkan H2 ballistic missile in retaliation for the Riydah regime's bloody attacks.