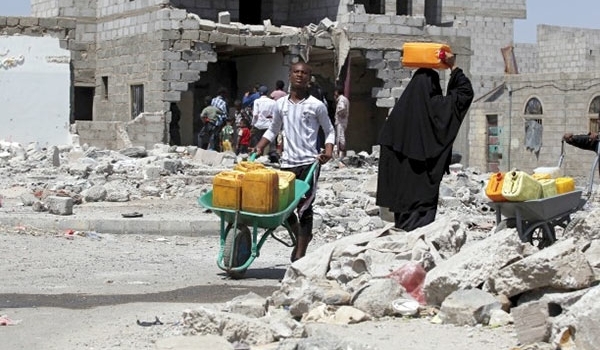 Al-Thawra Net
The International Committee of the Red Cross (ICRC) reported that 15 million people have difficulty in terms of accessing safe water in Yemen, as, according to the United Nations, more than three-quarters of Yemenis are now in need of humanitarian aid as the brutal aggression launched by the Riyadh-led coalition nears its fourth year.
The International Committee of the Red Cross said in a tweet that pumping drinking water into nine cities stopped during the past year due to lack of fuel to run the pumps.
It added that the pumping stop caused a crisis and made about 90 percent of the residents of these cities wait to be transported by trucks and tankers.
Yemen is the world's largest humanitarian crisis with more than 22 million people in need and is seeing a spike in needs, fueled by ongoing conflict, a collapsing economy and diminished social services and livelihoods.
The Saudi-led aggression has so far killed at least 15,700 Yemenis, including hundreds of women and children.
Despite Riyadh's claims that it is bombing the positions of the Ansarullah fighters, Saudi bombers are flattening residential areas and civilian infrastructures.
The Saudi-led air campaign against Yemen has driven the impoverished country towards humanitarian disaster, as Saudi Arabia's deadly campaign prevented the patients from traveling abroad for treatment and blocked the entry of medicine into the war-torn country, according to several reports.
Since the onset of the war, Riyadh has imposed a naval and aerial blockade on Yemen under the pretext of blocking alleged arms supplies to Ansarullah fighters. The siege, however, has caused severe shortages of food and medicine, endangering the lives of millions of aid-reliant Yemeni citizens.
A UN panel has compiled a detailed report of civilian casualties caused by the Saudi military and its allies during their war against Yemen, saying the Riyadh-led coalition has used precision-guided munitions in its raids on civilian targets.