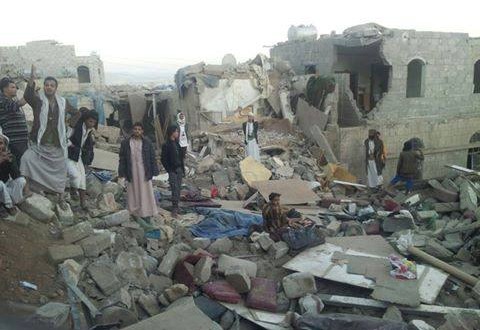 Al-Thawra Net
Two Yemen civilians were injured when the US-Backed Saudi-led coalition warplanes launched 29 strikes on several provinces of Yemen on Friday, according to report combined by Saba news agency on Saturday.
In Hodeidah province, Two Yemeni civilians were injured in three air strikes targeted a farm of Husainiah district, and 4 air strikes were aged on Luhaia district.
Moreover, Saudi-led coalition aggression warplanes launched two air strikes on a farm in Seham valley of Bajel district.
In Saada province, Saudi-led coalition aggression warplanes launched three air strikes on Baqim district, and three others on Sawda area of Majaz district.
Meanwhile, artillery and missile of Saudi force targeted on several area of Razeh border district.
In Hajjah province, 10 air strikes were waged on Haradh and Medi districts.
In Jizan border province, Saudi-American aggression warplanes carried out three air raids on Jara valley.