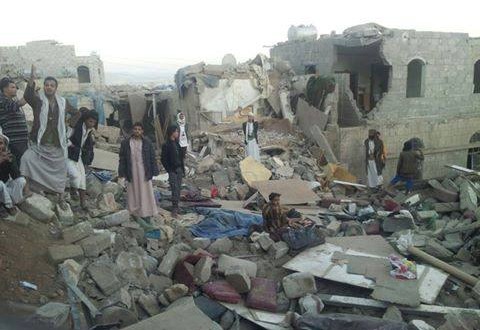 The Saudi Air Force continued its criminal raids on the governorates of the republic targeting citizens and their property during the last 24 hours .
A military source told SABA  that the warplanes  launched two raids on a farm on al-Tahita area in the province of Hodeidah, which led to the death of two citizens and wounding a third .
In Hodeidah the aircraft launched three raids on al-Halai  directorate in the province, one of which targeted the naval base, and also launched a raid on the market Almbarz in Ras Mount .
In the province of Sa'ada, the warplanes launched three raids on the district of the Mzaf and two raids on al-Sufara district and the same on Razih district ,  and launched a raid on the district of Haidan .
The source pointed out that a rocket bombardment and a Saudi artillery targeted different areas of the districts of Shada , Razih and Menbh border  and the directorate of Haidan .
The source pointed out that the  aggression launched two raids on the area of Harf Sufian district in the province of 'Amran, and eight raids on  Harad and Midi in Hajjah .