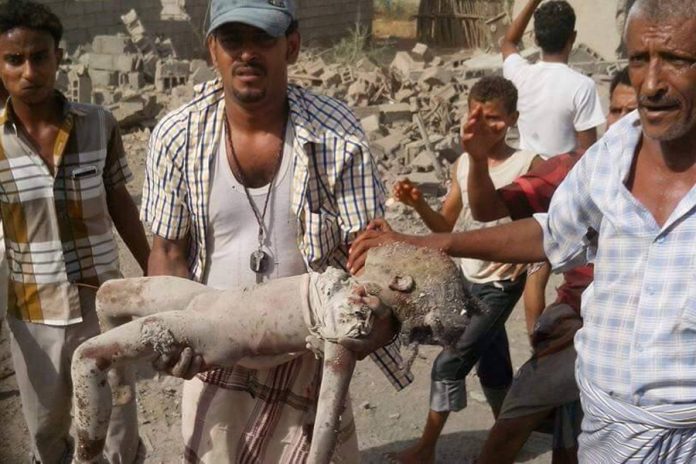 Yemen's Human Rights Council confirmed that the Saudi-led coalition has in the past 3 years committed dreadful crimes against the Yemeni people in Sa'ada province, specially 70 cases of massacre.
"Sa'ada province has been the target of the most horrible and extensive cases of violation of human rights by the Saudi-led coalition and it has committed over 70 cases of horrible massacres during over three years of aggression against the region," Head of Yemen's Human Rights and Freedom Council Ali al-Matmiz said on Monday.
"No one has yet been able to release the exact number of people killed and wounded in the province but there are over 8,000 cases," he added.
Saudi Arabia has been striking Yemen since March 2015 to restore power to Mansour Hadi, a close ally of Riyadh. The Saudi-led aggression has so far killed at least 16,000 Yemenis, including hundreds of women and children.
Despite Riyadh's claims that it is bombing the positions of the Ansarullah fighters, Saudi bombers are flattening residential areas and civilian infrastructures.
According to several reports, the Saudi-led air campaign against Yemen has driven the impoverished country towards humanitarian disaster, as Saudi Arabia's deadly campaign prevented the patients from travelling abroad for treatment and blocked the entry of medicine into the war-torn country.
Yemen is the world's largest humanitarian crisis with more than 22 million people in need and is seeing a spike in needs, fuelled by ongoing conflict, a collapsing economy and diminished social services and livelihoods.