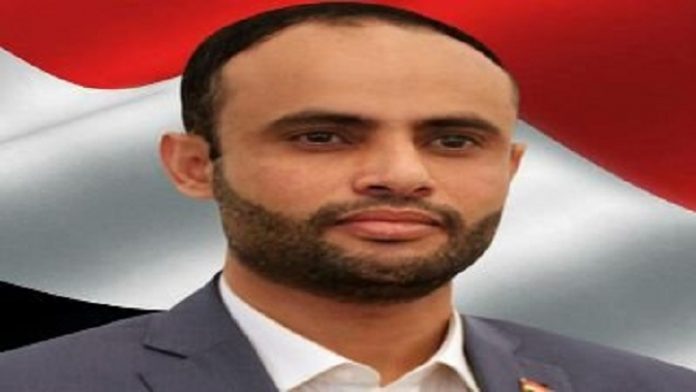 SANAA, May 21 (Saba) – President of the Supreme Political Council Mahdi al-Mashat said on Monday that ambitions of new invaders will never be achieved in Yemen, because Yemenis are strong men and tough fighters.
This came in the president's speech directed to the Yemeni people on the eve of the 28 anniversary of the unification of Yemen, which marks Tuesday May 22.
The president referred to the recent events in Socotra Island, which revealed objectives of the aggression coalition aspiring to divide Yemen, plunder its wealth, occupy its territory and undermine its sovereignty and independence.
"Yemen, with its wealth and strategic location, has been and will continue to be a focus of attraction of the arrogance and domination forces, topped by the U.S., Britain, Israel and those who walked in their orbit," said al-Mashat.
The president affirmed that Yemen will remain strong and impregnable and a renewable cemetery for invaders as it has throughout history.
"We had warned of the colonial practices of the coalition countries as a political leadership since the beginning of the aggression in March 2015," the president said.
The president called on all free people in the occupation areas to take serious and responsible action to confront the invasion and occupation projects by all means.
The president called on all Yemeni political parties and components to give priority the national interest and to work together within the state-building project launched by the martyred president Saleh al-Sammad.
He stressed that this national project is the rescue ship for all Yemenis, and the path to overcome conflicts and disputes.
In his speech, the president confirmed that the battle in Yemen is a battle for defending the land, unity, sovereignty and independence in the face of the US-Zionist project that will not stop in Palestine.
"The clear alignment of the aggression coalitions against Yemen and Palestine confirms that we are fighting against the true enemy of the Arab and Islamic nation," al-Mashat said.
The president said the abandonment of al-Aqsa Mosque (the first Kiblah of Muslims) is a bridge to abandon the holy Kaaba (the second Kiblah of Muslims), which he considered a real danger to the unity of Arabs and Muslims and to religion and belief.
He noted that after the US president Trump headed the Islamic Summit in Saudi Arabia a year ago, the region has witnessed wars, killings, and displacement.
"Today, the same summit is crying over Trump's decision to move his embassy to al-Quds (Jerusalem)," he added.
The president described the position of the summit as shameful and disgraceful for the Arab and Muslim peoples.
He called for a unified Arab and Islamic liberation project to stop this destruction and prevents depleting the resources and wealth of the region.
Saba