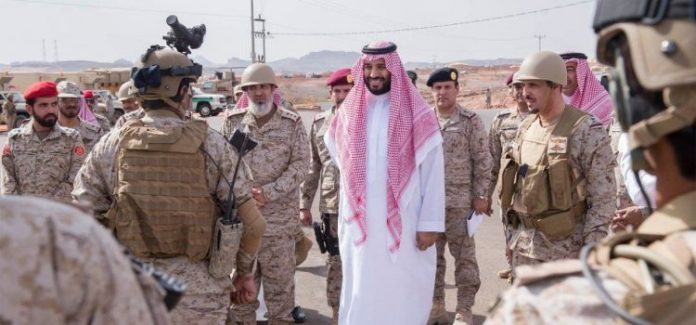 The officer in the UAE security service and the owner of the account "Min Doon Dhel", which reads "without shadow" in Arabic, published on the blogging site "Twitter" that Saudi Arabia announced the state of emergency in all sectors of the army and the air force.
He mentioned on Twitter that "The declaration of full emergency in the Kingdom of Saudi Arabia for all sectors of the army and air force beginning from tonight for unknown reasons until this moment. "
This comes at a time when the country on Wednesday night witnessed a major security event that sparked controversy among activists on social networking sites when two armed men stormed a building belonging to the National Guard forces in the city of Taif. The attack, according to Saudi journalists, resulted in the death of a security man, the traffic police corporal, Abdullah al-Sabaie.
The scenes circulated by activists through social networking sites showed a great security alert in the streets, the storming of one of the headquarters of the National Guard in the city of Taif near Mecca, Western Saudi Arabia.
Moreover, Saudi Arabia's Crown Prince Mohammed bin Salman was not injured in the shooting incident that targeted his palace in al-Khuzami district last April, however, he was very horrified to the point where it affected his decisions, according to a source close to the ruling family in Saudi Arabia.
The informed source confirmed that the incident of Qasr al-Khuzami was an armed act with political objectives from the government, not an ordinary terrorist act or the incident of the "Drones" plane, as claimed by the authorities at the time.
"The crown prince survived the attack, which was difficult to succeed, but he was horrified. It was inconceivable that the operation was aimed at the palace, which is supposed to be the most guarded place in Saudi Arabia and the Middle East, and that the attack came from parties aware of his movements, as well as the general environment of the family and the security services. "
The source confirmed that "the attack resulted in a complete change in the life of Prince Bin Salman, there is silence about his movements and the quality of the protection he is depending on, which is barely adopted by Saudi Arabia but rather has become western. He also answers his personal phone in rare cases so that no one detects his movements and the location of his presence. "