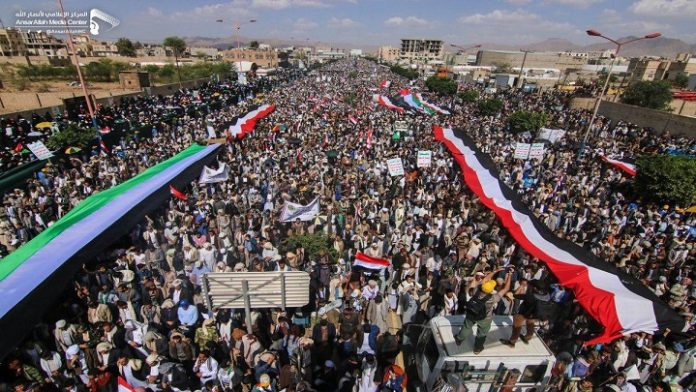 Al-Thawra Net
The capital Sanaa witnessed on Friday afternoon a mass rally to commemorate of the Jerusalem International Day, with the participation of masses which is the largest in the Arab region.
The participants in the rally raised Yemeni flags, Palestinian flags, signs of freedom against the American policy in the region and banners that show the extent of the Yemeni people's adherence to Al-Aqsa cause.
The leader of the revolution, Sayyed Abdul Malik Al-Houthi, called on Thursday evening in a televised speech to the mass rallies to commemorate of Jerusalem International Day in the capital Sanaa, Hodeidah and other cities.
Sayyed Abdul Malik stressed that Al-Aqsa and Palestine issue is the title of the great and comprehensive struggle in which the enemy seeks to acquire everything, pointing out that linking Al-Haram Mosque to Al-Aqsa Mosque is an important sign in the conscience of the nation.