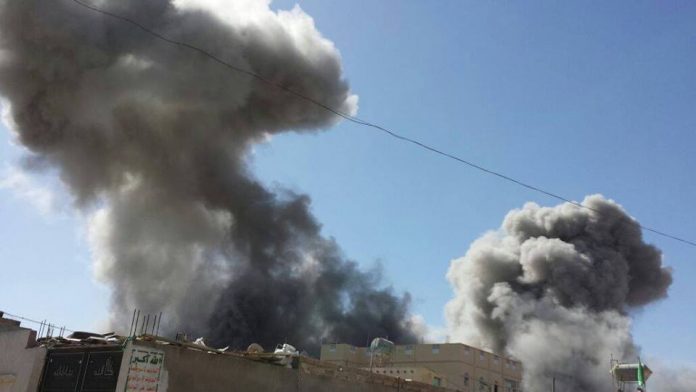 Al-Thawra Net
At least five people were killed and injured when  The US-backed Saudi-led aggression coalition warplanes launched over 53 air strikes on four Yemeni provinces, in addition to Asir and ground attacks in Saada province over the past 24 hours, according to a report combined by Saba News Agecny on Sunday.
In Saada, one citizen killed and three others were critically injured in Saudi intensive bombardments that hit Shada border district.
Another girl was injured when Saudi-led coalition warplanes launched air strike on a residential area of Razih border district, and three air strikes were waged on Baqim district.
In Sanaa, 11 air strikes were waged on Ghurza area in Hamdan district, resulting in damage to citizens ' cars and properties,13 others air strikes hit Sama'a and Firijah military camps in Arhab district, one air raid on Beit Shamlan area in the same district, and two air strikes hit Nehim district.
In Hodeidah, the Saudi-led jets launched two air strikes on Durihami targeting its militias, and 8 others were waged on al-Ja'ah area Bayt al-Faqih District.
In Amran, the coalition warplanes conducted 4 air strikes on Jabal al-Musallouq in Harf Sufyan district.
In Asir, the Saudi-led coalition jets waged two are strikes on the city of Raboua'a