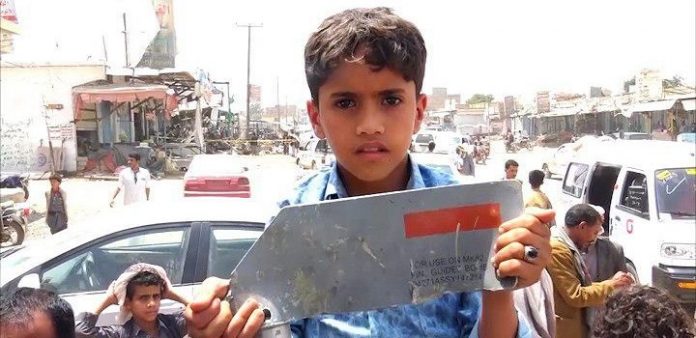 Al-Thawra Net
Munitions experts have confirmed that a bomb used by Saudi Arabia in last week's attack on a school bus in Yemen that killed dozens of children had been supplied by the US
The experts told CNN and middle east eye on Friday that the bomb was a 227-kilogram laser-guided Mark 82 bomb
They also noted that the numbers on the weapon identified major US military contractor Lockheed Martin as its maker.
The Saudi air raid on Sa'ada hit a school bus on August 9 as it drove through a market in the town of Dhahyan, sparking outrage from international human rights groups and UN officials.
The attack killed a total of 51 people, among them 40 children, and left 79 others wounded.
Earlier this week, a local journalist said recovered bomb fragments showed that it was likely manufactured in the US.
Riyadh initially described the Sa'ada strike as a "legitimate military action," but later launched an investigation into the incident amid mounting criticism of its bloody war on Yemen.
Asked about CNN's report, Saudi "coalition" spokesman Colonel Turki al-Maliki said that it would not "be appropriate for the coalition to comment further while the investigation is underway.
The report also said that the bomb used in the Sa'ada airstrike was very similar to the one that hit a funeral hall in the Yemeni capital, Sana'a, in October 2016, killing 155 people and injuring 525 others.