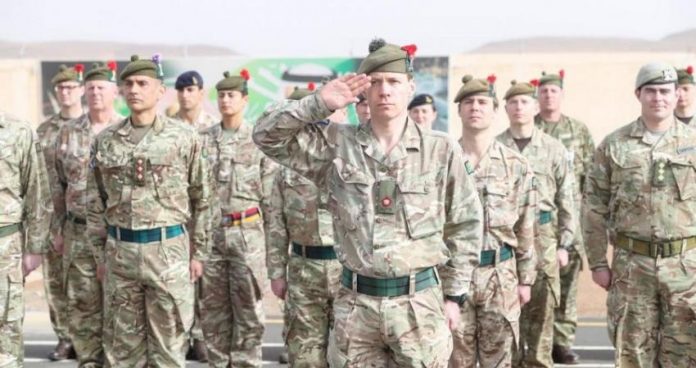 An investigation by the Guardian Newspaper revealed the nature of London's role in Saudi Arabia's deadly war in Yemen.
The newspaper pointed out that Britain does not support Riyadh only with weapons, but also there are about 6,300 Britain soldiers working in Saudi military bases for the maintenance of warplanes war.
The newspaper said that the British aid is contributing to the continuation of the brutal war, which is considered as a violation of law by the Government Britain.
The paper confirmed that Saudi Arabia joined forces in its war against Yemen, with Britain and the United States.
Britain is not only supplying weapons to this war; it is also equipped with the personnel and expertise necessary to continue the war. Its government has deployed members of the Royal Air Force to work as engineers and training Saudi pilots.
BAE System Britain's the largest arms company in Britain is making a larger role in the war where the government secretly hired it to purchase weapons, to  maintain the jets and its staff engineers are  inside Saudi Arabia.
The Guardian quoted John Deverell, a former attaché in the British Ministry of Defense, and a defense attaché to Saudi Arabia and Yemen, saying " the Saudis would not be able to launch this war without Britain",
"Without us, a jet will not be able to fly in the sky in seven to 14 days," he said.
The Newspaper added that  the mere arrival of these weapons into Saudi Arabia means the end of the British mission. The Saudi Army lacks the experience to use these weapons to wage an ongoing air war. The company, under another contract with the UK government, provides what is known as" with in the country services "
The newspaper pointed that this means that about 6,300 British contractors are based in Saudi Arabia's forward operations bases. There, Saudi pilots are trained and basic day and night maintenance is carried out on aircraft exhausted from flying thousands of miles across the Sahara to the Kingdom in Yemen.
They also supervise Saudi soldiers to load bombs on aircraft, and to set their own valves for intended purposes.