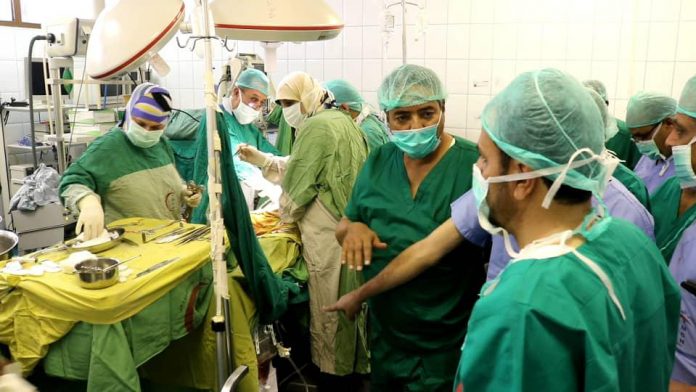 Al- Thawra Net
A national medical team at Al-Thawra General Hospital in Sana'a has performed a second kidney transplant operation on Saturday.
Minister of Public Health and Population, Dr. Taha Al Mutawakil confirmed the second operation was successful and the patient's health is stable after six days since the first operation.
The move came during his meeting with the national medical team that performed the operation headed by Professor Ibrahim Al-Nono.
The minister praised the efforts of the leadership of the Al-Thawra General Hospital Authority and the national medical team to resume kidney transplantation, after it was suspended for five years due to aggression and siege.
Al-Mutawakil pointed out that the ministry strives to provide the necessary possibilities to carry out this kind of delicate operations in the Al-Thawra Hospital and other bodies in various provinces to alleviate the suffering of patients due to the closure of Sana'a International Airport and prevent patients from traveling for treatment abroad.
He explained that this step "will strengthen the determination and move towards further achievements and successes and conduct qualitative operations in various disciplines despite the continuing aggression and blockade."
The minister stressed that these achievements by medical teams in the health front coincide with military achievements on various fronts.
He called on doctors and consultants in other disciplines to "move towards the resumption of organ transplantation, particularly the liver and cornea."
The national medical team that performed the operation expressed their appreciation and thanks to the Minister of Health for his attention, encouragement and continuous follow-up to the successful resumption of kidney transplantation.