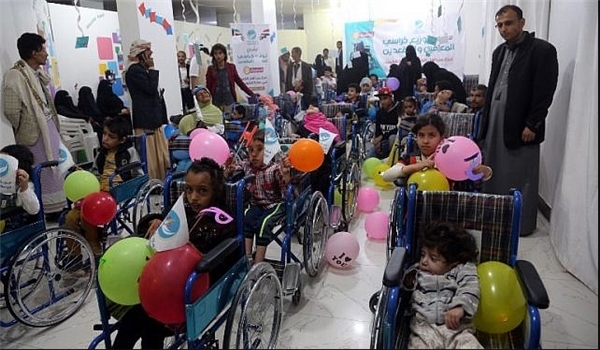 Amnesty International raised the alarm about the dire situation of millions of people with disabilities in Yemen, saying they are hit the hardest by a years-long Saudi-led military campaign against the impoverished state.
In a report, entitled "Excluded: Living with disabilities in Yemen's armed conflict" and published on Tuesday, the London-based rights group called on international donors to address the suffering of at least 4.5 million disabled Yemenis amid the bloody Saudi-led war, according to presstv.
The report was published on Tuesday as the world marks the International Day of Disabled Persons.
"Yemen's war has been characterized by unlawful bombings, displacement and a dearth of basic services, leaving many struggling to survive. The humanitarian response is overstretched, but people with disabilities — who are already among those most at risk in armed conflict — should not face even greater challenges in accessing essential aid," stated Rawya Rageh, senior Crisis Advisor at Amnesty International.
"International donors, the United Nations, and humanitarian organizations working with the Yemeni authorities must do more to overcome the barriers that prevent people with disabilities from meeting even their most basic needs," she added.
The report is based on a six-month research, including visits to three Southern Yemeni provinces and interviews with nearly 100 people.
Many of those interviewed said they undertook exhausting displacement journeys without wheelchairs, crutches or other assistive devices, adding that such equipment is in very short supply.
Migdad Ali Abdullah, an 18-year-old with limited mobility and difficulties in communicating, described as "torturous" his trip alongside his family from Hudaydah to Lahij in early 2018.
"I was transferred from bus to bus — in total four buses… My neighbor carried me," he said.
Some of the disabled Yemenis also told Amnesty International that they had been left behind as their families fled.
Meanwhile, families announced that they had sold belongings or delayed rent to prioritize costs associated with supporting a loved one with a disability.
"I sold the furniture in my house and took her to Sana'a to get her treatment there. … Four months later, I could see she was not moving or laughing or playing. I took her up [to Sana'a] again. … The other day I even asked my friend about selling my kidney. I would sell my kidney and buy her a year's worth of medication, the shoes she needs and everything else," noted the mother of a three-year-old girl with epilepsy and spinal muscular atrophy.
According to the report, there is only one prosthetic center in Southern Yemen, which has to send some types of prosthetics abroad for repairs.
Rasha Mohamed, Yemen Researcher at Amnesty International, urged donors to provide the disabled Yemenis with more and better-suited assistive devices.
"People with disabilities worldwide rightly demand that no decisions be made 'about us, without us' – and Yemen is no exception. International donors must step up to fully fund humanitarian pledges and do a better job of ensuring that people with disabilities in Yemen are not left behind," she added.
Saudi Arabia and a coalition of its vassal states launched the war on Yemen in March 2015 in an attempt to reinstall a Riyadh-backed former regime.
The Western-backed military aggression, coupled with a naval blockade, has plunged Yemen into "the world's worst humanitarian crisis", according to the United Nations.
The US-based Armed Conflict Location and Event Data Project (ACLED), a nonprofit conflict-research organization, estimates that the Saudi war has claimed more than 100,000 lives so far.