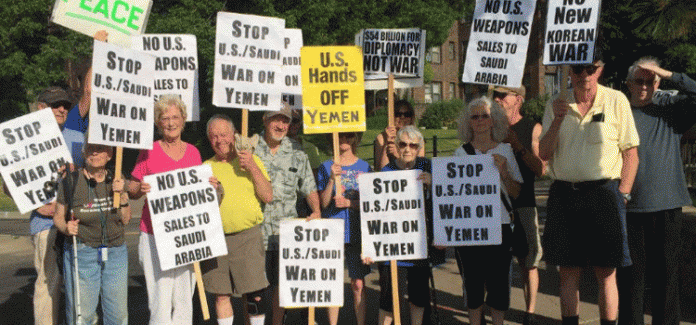 ANTI-ARMS campaigners demanded a ceasefire of British-made weapons in Yemen today in order to protect the "almost collapsed" healthcare services in the event of a coronavirus outbreak.
Yemen is facing a Saudi-led bombardment which has destroyed hospitals, aid facilities and other vital healthcare infrastructure, leaving services operating at 50 per cent capacity while 24 million people need aid.
On Monday, widespread attacks, including by Saudi Arabian forces, continued the region's ongoing war, just five days after reports that a ceasefire had been agreed to allow Yemen's healthcare system to respond to the threat of Covid-19.
The World Health Organisation (WHO) warned of an imminent coronavirus threat to Yemen's healthcare system, which, according to Yemeni human rights monitoring group Mwatana, is said to be "almost collapsed" following five years of war.
Over recent weeks, the WHO has increased distribution of protective gear and test equipment to the country in anticipation of an "explosion" of coronavirus cases.
Currently there are no cases of coronavirus in Yemen, but the disease has reached neighbouring regions.
And earlier this month, Oxfam warned of the possibility of another outbreak of cholera.
Campaign Against Arms Trade's Andrew Smith warned that if the virus spreads in Yemen, it will put an even greater strain on a healthcare system already "stretched to breaking point."
"Yemen is already enduring the worst humanitarian crisis in the world, and this stands to make it even worse," Mr Smith said.
"It is vital that this devastating war is brought to an end. That is why the UK, and other arms dealing governments, must finally stop arming and supporting this brutal bombardment and end the uncritical political and military support that they have offered to the Saudi regime.
"There must be a ceasefire now, but the chances of that happening will be even more remote as long as the arms keep flowing."
Since the war began in 2015, Britain has licensed at least £5.3 billion worth of arms to the Saudi regime.
In June 2019, the Court of Appeal ruled that the British government acted unlawfully by licencing arms without assessing their use in human rights breaches, and it was banned from issuing any further licences.
However, following the judgement, the government has admitted multiple contraventions of this ban.