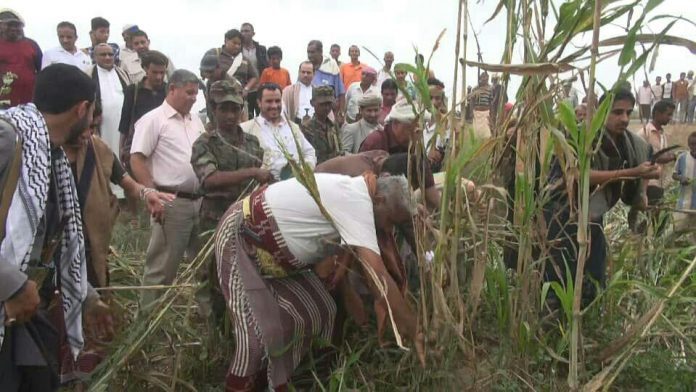 The aggression forces continued to target citizens and their properties in a number of governorates of the Republic, resulting in the death and injury of four, most of them children, and violations continued in Al-Hodeidah Governorate during the past 24 hours.
A security source confirmed the death of a citizen and the injury of three children as a result of a shell of mercenary aggression targeting the residential neighborhood of Al-Sallal in the Salih District in Taiz Governorate.
The source pointed out that the violations of the aggression forces in Hodeidah Governorate amounted to 108, including an assault on the control of 16 km and the flight of a spy plane in the airspace of Sana'a Street, 32 violations of artillery and missile shelling with 85 shells and missiles, and 74 violations with live bullets.
The source pointed out that the forces of aggression bombed a number of Katyusha and mortar shells separate places from the 50th Street, the July 7 residential area and Sana'a Street  and kilo 16 area.
Artillery shelling of the aggression forces targeted the Al-Habani Hospital in Al-Hawk district and material damage occurred, while a military bulldozer of the aggression forces created combat fortifications in Al-Faza area of ​​Al-Tahita district.
The source pointed out that one of the houses of the citizens in the village of Lower Djerba in Al-Duraimi district was damaged as a result of artillery shelling of the aggression forces.
In Sa'ada governorate, Saudi missile and artillery strikes targeted populated villages in the border district of Razih.
The source pointed out that the aggression launched a raid on the Harad district in the Hajjah governorate, ten raids on the Al-Hazm district in Al-Jawf governorate, as well as a raid on the Al-Malagam directorate in Al-Bayda governorate, and a raid on  Al-Baque opposite Najran.
The source condemned the aggression targeting citizens and committing crimes against the Yemeni people .
The source called on the international community to put an end to the violations committed by the occupying and arrogant countries of the aggression.