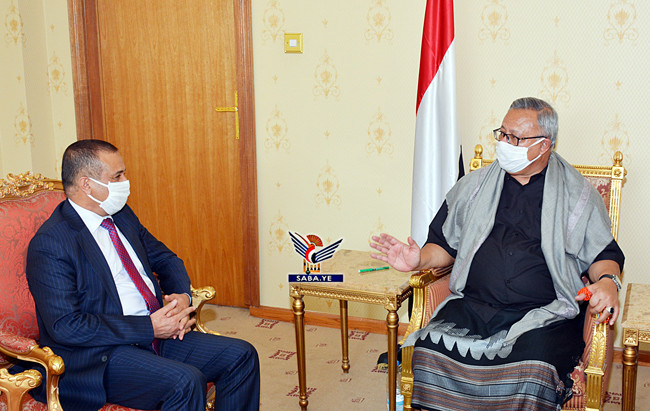 Al-Thawra Net
Prime Minister Dr. Abdulaziz bin Habtoor on Saturday discussed with Minister of Industry and Trade Abdulwahab al-Durrah the Ministry's activities with the commercial sector and its control over markets in the capital Sanaa and provinces.
At the meeting, al-Durrah gave a presentation on the provisioning situation of basic materials in the local market and the negative effects of continued detention of fuel vessels and preventing their access to Hodeidah port by Saudi-led aggression coalition.
The Prime Minister affirmed that the United Nations and the UN Security Council bear a legal and moral responsibility for the aggression coalition's continued detention of fuel ships, as that caused major crises in the capital Sanaa and the other liberated provinces, indicating that this is considered a war crime according to international humanitarian law.
Dr. bin Habtoor praised the great efforts made by the Ministry of Industry and Trade to enhance the relationship with the industrial and commercial private sector, as well as monitoring local markets, controlling price manipulation, and protecting consumers from expired and counterfeited goods.
He directed the Ministry to quickly raise the draft commodity declaration bill to the Cabinet for discussion and approval.