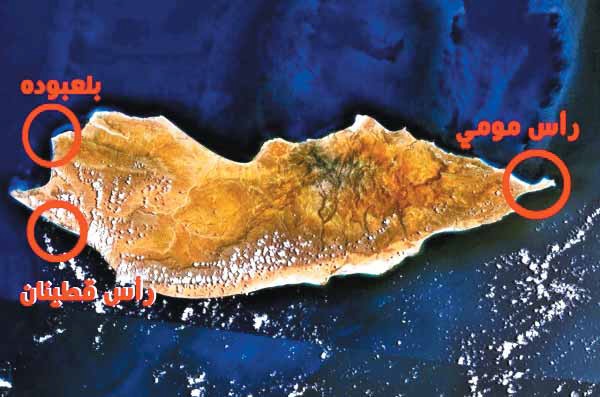 Al-Thawra Net
The UAE occupation forces on Socotra Island have begun to build military bases  in three strategic locations on the island: Ras Qatinan , Ras Momi, Balaboudah, in coordination with Saudi forces deployed at Socotra port and airport.
The move considered one of the fruits of the UAE-backed Southern Transitional Council (STC)'s militia's takeover of the island in June.
"Arab 21 website" quoted local sources as saying that the Emiratis chose three sites in Socotra, to establish camps "in the name of the army, which no longer exists".
The website pointed out that these sites are "Ras Qatinan"  located south-west of Socotra, towards the islands of Samaha, Island of Abd Al Kuri and the Horn of Africa, and the second site is the " Ras Momi located in the far north-east of Socotra
It also pointed out that this site with the former «Ras Qatinan», a reconnaissance site, due to their location in a high area overlooking the sea. While the third is named "Belaboudah" and is located near Socotra airport about 4 kilos from the west.
The "Emirati delegate" on the island, Khalfan al-Mazroui, had failed to obtain those sites before the STC's takeover of the island, despite the temptations he gave to the people in those areas.
According to the sources,  The UAE representative in Socotra Khalfan al-Mazroui, tried to buy these sites from the residents of the area years ago, and offered great temptations to some of the residents of those areas, sometimes by granting them Emirati citizenship, and others by owning apartments in his country."
They pointed out that these temptations were rejected by the people of the region, who refused to give up any inch of their land.
The same sources stated that al-Mazroui, tried to lure the Tribe of "Da'anhwa", which inhabits the the strategic Ras Qatinan, southwest of Socotra Island, to build two rooms for each person in the tribe. Moreover, he had also tried to buy loyalty of the tribal leader by giving him two four-wheel-drive "cars", but his request was rejected.
After the STC's  militias took control of the city of Hadeboh, the capital of Socotra, last June, al-Mazroui addressed it by seizing the site of Ras Qatinan, by force and under the pretext of establishing a military site.