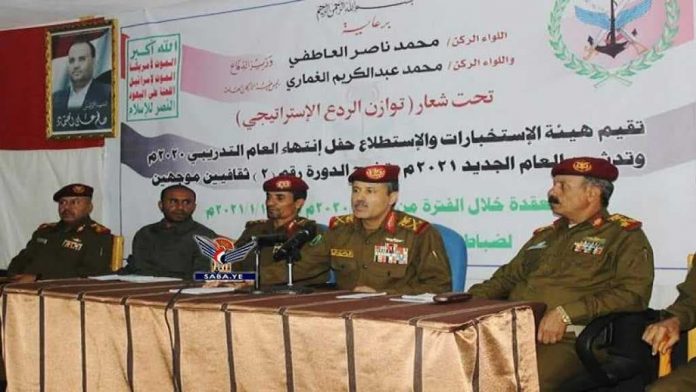 Yemen's Defence Minister, Major General, Mohammad Nasser Al-Atifi, has affirmed that the ministry and the chief of staff are in a race against time to develop and manufacture strategic deterrence weapons and other military weapons.
This statement came during a speech the minister delivered at a graduation ceremony for the inauguration of the training year 2021 on Monday in Sana'a, under the slogan "Balance of Strategic Deterrence".
The event was organised by the Intelligence and Reconnaissance Commission, and was attended by the head of the commission, Major General Abdullah Yahya Al-Hakim, as well as other military leaders.
Al-Atifi explained that "what is happening in terms of the injustice and a brutal aggression against Yemen, is what made us and the intelligence body rise to this level."
Al-Atifi pointed out that the Leader of the Revolution, Sayyid Abdul-Malik Badreddin Al-Houthi, spoke more than once on the fact that events, conflicts and challenges are the ones that build nations.
The Minister of Defence also confirmed that the Yemeni Armed Forces possess high-tech systems, including what is currently used in the defence of Yemen, some of which will be revealed in the near future, pointing out that these systems will bring major changes in the strategy of war and counter aggression.
He added: "The aggression against Yemen will stop only by force, and we have this power. We have achieved a qualitative shift in the field of manufacturing of various types, including  light, medium and heavy weapons and surface-to-surface missiles ballistic, tactical and strategic weapons as well as different types of weapons and ammunition."
"We have all heard about the US designation of Ansarullah as a terrorist group. This is not important to us in Yemen," he said, adding that "the whole world knows that they are political matters because it is not permissible in any way, to classify those who defend their country and people as terrorists."
"The terrorists are the Americans who support this aggression and kill people," he said, noting that "terrorist groups are an American industry."
"We don't have assets to ban and we don't need to travel abroad," he said sarcastically, adding, "When we want any travel, we will travel to the frontlines and to those who defend the Yemeni people. This is the biggest form tourism and travel for us."
He praised the role of the Intelligence and Reconnaissance body and its departments and the significant development and qualitative shift in tactical, strategic and all tasks at the regional and regional levels