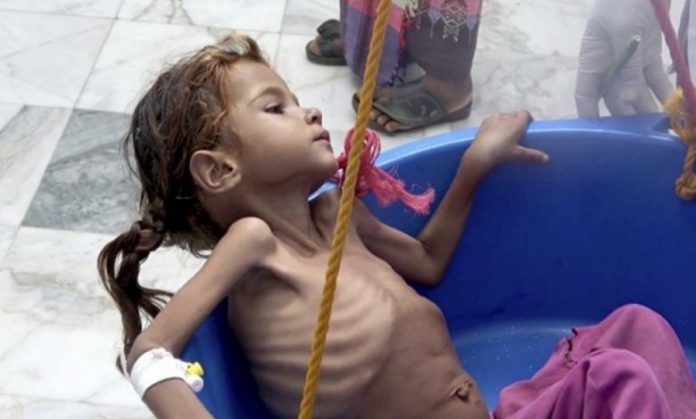 A report by a London-based online newspaper said on Tuesday that no assessment has been carried out of how a "brutal" 60 per cent aid cut will hit the most vulnerable people in Yemen, the government has admitted.
The Independent said that British MPs demanded to know what the impact would be on displaced people, women and the disabled – as the war-torn country continues to suffer the world's worst humanitarian crisis.
According to the report,  Chris Bold, the development director for Yemen at the Foreign Office, admitted: "We haven't done an impact assessment." James Cleverly, a minister at the department, admitted the cut was being forced through – without the promised vote by MPs – while "the fear of famine, the risk of famine is significant".
Aid groups giving evidence to the international development committee warned of the harsh impact of the UK pledging just £87m to Yemen – a near-60 per cent cut on the amount donated last year
Save the Children said it expected its cash-transfer programme – which had boosted the numbers receiving "acceptable food" in part of Yemen from 46 to 93 per cent – to be wound up in June.
And the Norwegian Refugee Council warned the UK's reputation was undermined, threatening attempts to improve aid outcomes at the June G7 summit it will host, saying: "Diplomacy has to be matched by substantial funding."
The Yemen cut will be followed by similar huge reductions for many of the world's other conflict zones, expected to be confirmed on Thursday.
Syria, Somalia, the Democratic Republic of Congo, Libya, Nigeria and the Lebanon are all poised to lose more than half of their funding, a leak revealed.
The report attributed this to that the consequence of Boris Johnson's widely criticised decision to slash £4bn-a-year from the aid budget, cutting spending from 0.7 to 0.5 per cent of national income.
The report continued: Mr Cleverly defended the failure to carry out an impact assessment, arguing the way aid projects are delivered "doesn't lend itself" to such a process.
"It's not possible for anyone to predict how exactly the situation will play out in Yemen," the minister told the committee.
And he played down the prospects of the £87m being bumped up over the course of the year, saying: "I can't give a guarantee on that."
Of that £87m, 50 per cent will go on the cash-for-food programme, 25 per cent to tackle malnutrition and most of the rest on supporting political efforts to end the war.