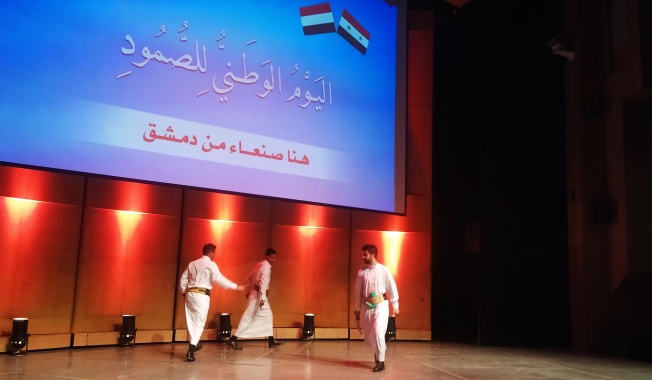 Yemeni embassy in Syria held a speech event on Wednesday at the Opera House in Damascus under the slogan "The National Day of Steadfastness, Here Is Sana'a from Damascus."
His Excellency Ambassador Abdullah Ali Sabry, along with the Syrian Minister of Culture, Dr. Labana Mashouh, inaugurated a photo exhibition that included the brutal crimes committed by the US-Saudi aggression against Yemen.
The exhibition also included manifestations of popular steadfastness in the face of the unjust aggression and siege, and scenes of victories and the qualitative operations of the Army and Popular Committees.
Ambassador Abdullah Sabry said in his speech that the forgotten war on Yemen has continued to brutal criminality against Yemenis for six years amid unprecedented UN complicity and neglect.
Ambassador Sabri added that the legendary Yemeni steadfastness of resistance and national cohesion thwarted the hidden plans and objectives of the US-Saudi aggression, as did the Syrian Arab Republic, which toppled the Daesh state and withstood the war and the global conspiracy against Syria as a state, people and president.
For his part, the Officer-in-Charge of the Iranian embassy in Damascus, Ali Reza Ayati, affirmed that had it not been for the US green light for the Saudi regime, a brutal criminal war would not have been launched against the peaceful Yemenis.
Ayati renewed the Islamic Republic of Iran's stand with Yemen and its eagerness to support political initiatives to end the aggression and start the Yemeni-Yemeni political dialogue.
The Secretary-General of the Palestinian Popular Struggle Front, Khaled Abdulmajid, on his part, expressed the Palestinian people's appreciation for the Yemeni stances in solidarity with Palestine.
"Yemen stood with the Palestinian cause despite the pain, wounds and suffering it is going through because it is a genuine Arab people," Abdulmajid said.
He called for supporting Yemen and showing the injustice on its people in various international forums.
The President of the Arab Writers Union affirmed in his speech the solidarity of the Syrian government and people with Yemen and its just cause.