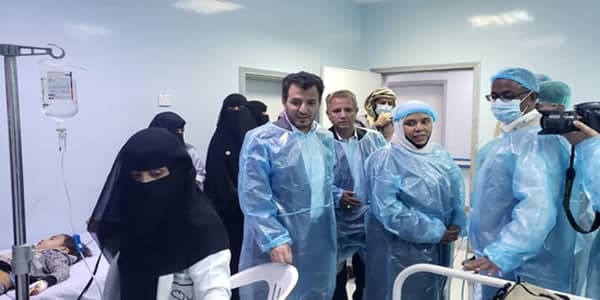 Minister of Public Health and Population, Dr. Taha Al-Mutawakel on Sunday inaugurated the surgical operations in the free surgical medical camp, which is implemented by the Palestine Maternity and Child Hospital in Sana'a.
The camp, which will last until May 10, in coordination with the Health Office and Camps Administration at the Ministry of Health, aims to perform 300 surgeries for children suffering from deformities of the cleft lip, roof of the palate, migratory testicles, tonsils and eardrum grafts, funded by the Direct Aid Society, Yemen Office as part of a 10 x 10 campaign.
At the inauguration, the Minister of Health referred to the importance of establishing such medical camps, for its role in alleviating the suffering of the citizen, especially in light of the current conditions that the country is going through, praising the efforts of the camp administrators and their workers.
He noted the level of medical and therapeutic services provided at Palestine Hospital and the role and efforts of the hospital's management staff in making a positive shift in the development of performance and services provided to patients.
Dr. Taha Al-Mutawakel called on the Direct Aid Association and all organizations, businessmen and philanthropists to support and finance the establishment of free medical camps in the poorest and needy areas, which would contribute to alleviating the suffering of the Yemeni people.