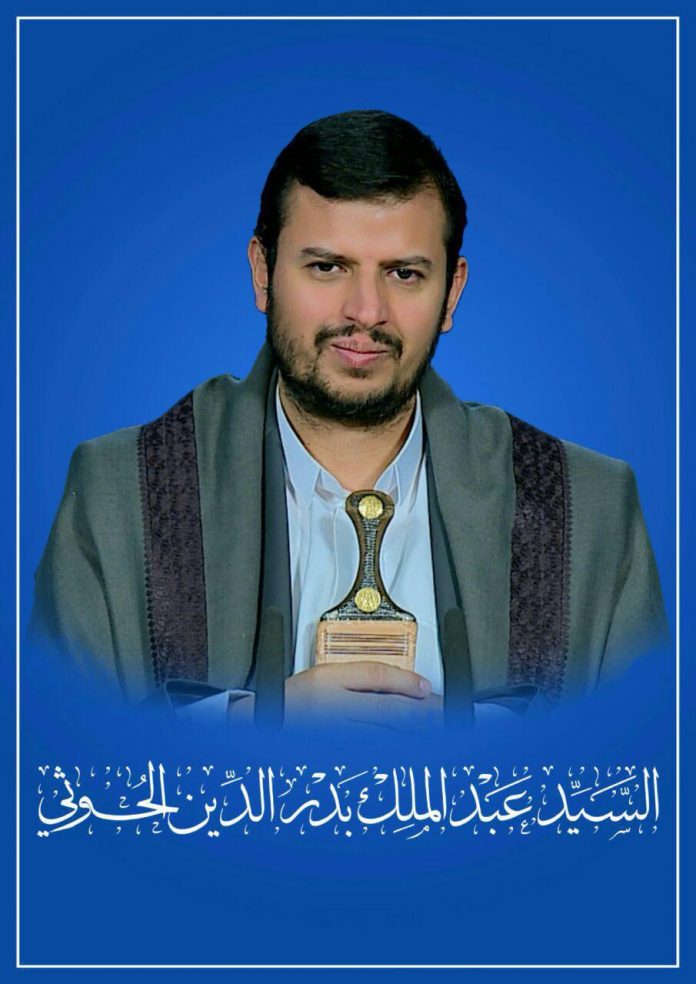 The Leader of the Revolution, Sayyed Abdulmalik Al-Houthi, affirmed, Wednesday, that our Yemeni people, with their faithful believes and identity, will continue in their adherence to support the Palestinian people and strive to liberate Palestine, sanctities and all the occupied Arab territories.
He stressed that our people are looking forward to an active role and great contribution, with all the free people of the nation and the axis of resistance, and is practically seeking to play its role in advocating for the Palestinian people, regardless of the extent of suffering and the targeting of the agents countries.
He also affirmed the position of our people in supporting Palestine based on the principles of faith and religious and human values, and it cannot be abandoned or undone.
Sayyed Abdulmalik al-Houthi said: Our people today clearly and firmly in the heart of the conflict are ready to play its role at all levels and with everything it can, and it will not be neutral in the battle of the Islamic Nation and towards the cause of Muslims and facing the enemy of Muslims. He noted that Al-Quds Day is important occasion to revive the Islamic Nation, sharpen motivation, and raise awareness and sense of responsibility towards the central cause of the nation.
He expressed greetings and pride to the people of Palestine, their freedom fighters, and the stationers in the Al-Aqsa Mosque and Jerusalem, praising the actions of the Free Jerusalemites in response to the Zionist enemy in its targeting of the Al-Aqsa. He affirmed that Arab regimes, that rushed in haste to the Jewish Zionists, to advance normalization are going against the correct position and they are betraying Islam and Muslims.
Regarding Yemen's efforts to free the kidnapped Palestinians in the prisons of the Saudi regime, Sayyed Abdulmalik said: "We made the effort to the Saudi regime to release the kidnapped Palestinians, but so far, it is intransigent. The Saudi regime has chosen use the kidnapping of Palestinians from Hamas to extend relations with the enemy." The Leader of the Revolution renewed the call for the Saudi regime to respond to the offer of releasing pilots and number of captured Saudi officers in exchange for the release of Palestinian kidnapped by them.
#Sayyid Abdulmalik al-Houthi #International Jerusalem Day