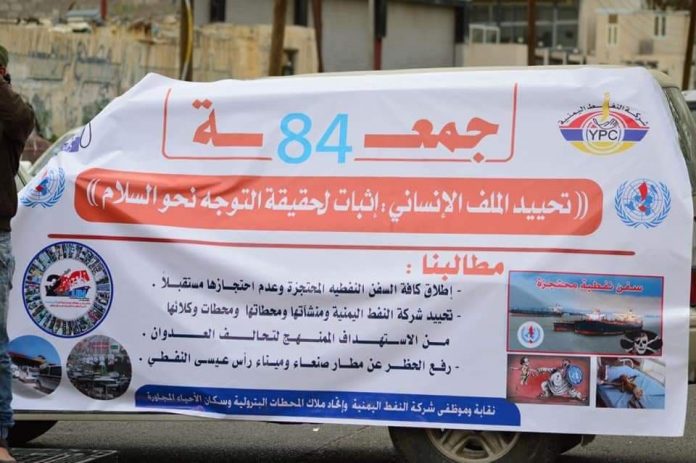 Yemeni Petroleum Company (YPC) has renewed the demand to United Nations and the international community to work on the release of the fuel ships detained by the US-Saudi aggression and to allow their entry to the port of Hodeidah.
The protest organized by the employees of company took place in front of United Nations office, in the presence of CEO of the company, Ammar Al-Adrai, the company's spokesman, Essam Al-Mutawakel. They considered the Alliance of Aggression and United Nations to be fully responsible for the suffering and human tragedy suffered by Yemeni people.
The pointed out that there is clear siege on public consumption and the ships are not allowed to enter. Diesel ships belonging to the electricity sector are detained. Yesterday, a ship belonging to the private sector factory was released, while public consumption are still being held despite having obtained permits from United Nations.
The official spokesman affirmed that there is no international law, humanitarian law, or customs that permits the detention of ships while bear a humanitarian character, pointing out that there are clear attempts to mix the humanitarian situation with the military and political negotiations.
A statement by the employees condemned the arbitrary practices of the US-Saudi aggression in detaining fuel ships and the continued piracy.
The statement called on the free people of the world to stand by Yemeni people and press for the release of fuel ships and permission to enter the port of Hodeidah to prevent a humanitarian catastrophe following the suspension of the service and vital sectors.