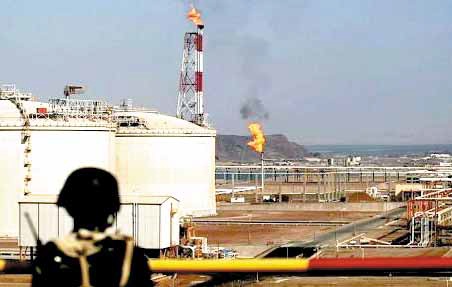 The Executive Director of the Yemen Petroleum Company (YPC) Ammar Al-Adhrai gas confirmed that the US-Saudi aggression is looting three to four million barrels of oil per month.
"We do not know where the fuel's revenues are deposited," Al-Adhrai told Almasirah on Friday.
"The US-Saudi aggression is still holding four ships across from the port of Jizan, including two petrol ships for public consumption, a diesel ship for Hodeidah factories and electricity, and a gas ship," Al-Adhrai added.
Al-Adhrai also confirmed that two detained gasoline ships had been held for 431 days, with fines amounting to eight million and 620 thousand dollars.
He pointed out that looting of crude oil and liquefied gas by the US-Saudi aggression is what prevents the payment of salaries to citizens.
The aggression's continued piracy against fuel ships is causing great losses to Yemenis, as the direct and indirect losses might exceed 20 billion dollars.
Moreover, sources had confirmed that the coalition aggression has brought in huge exploration equipment to deepen the oil wells in order to raise the rate of oil extraction and increase the frequency of looting and theft.
Furthermore, the sources explained that the aggression explored new oil wells in the area of "Al-Khasha" with the aim of draining oil resources and plundering their revenues.
Additionally, hundreds of locomotives transport the quantities produced from the area of Al-Khasha, estimated at 40,000 barrels per day, to the port of Bir Ali  In Shabwah province, which is under control of Islah militants. These quantities unloaded at the port, which has been turned into a corridor for smuggling and looting crude oil.
The sources pointed out that the financial returns are shared between mercenaries and the coalition aggression, and between the Canadian company Cal valley, the producer of Sector 9.
The sources stated that the intense conflict between the Muslim Brotherhood, Islah militants and the UAE-backed Southern Transitional Council (STC) militias in Shabwah province is due to the port from which the mercenary leaders of  Islah party smuggle crude oil, and through it they import fuel shipments that they sell and trade on the black market.