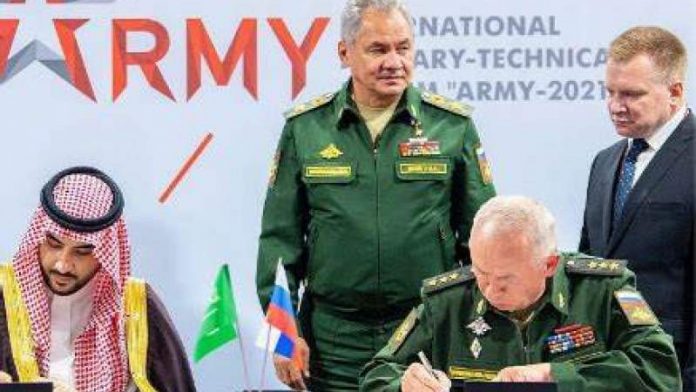 On Friday, the United States threatened to use sanctions against Saudi Arabia, after it signed an agreement to purchase defense weapons from the Russian federation last Tuesday.
In statements to Al-Hurra channel, a US State Department spokesman renewed a call to Saudi Arabia to avoid dealings with the Russian defense sector, reminding them of the Countering America's Adversaries Through Sanctions Act CAATSA that imposed sanctions on Iran, North Korea, and Russia.
Observers believe that Washington fears the possibility of Saudi Arabia bringing Russian experts with Russian weapons into the kingdom, which Washington considers a closed military place that the enemies of the United States must not enter. Especially since the administration of President Biden has reclassified Russia and China under the "Number One Enemy of the United States."
Saudi Arabia suffers impasse, which is represented by the increasing air attacks carried out by the Yemeni Army and the Popular Committees, targeting vital and military sites in Riyadh. And despite the inability of US defenses to provide the necessary protection from these attacks, Washington no longer takes Riyadh's concerns seriously. Saudi analysts believe that the United States is selfishly looking at the kingdom's situation, which is threatened by Yemeni attacks.
The Saudis add that Washington fears bringing Russian weapons more than it fears about the lack of security and stability of Saudi Arabia, which is troubled by Yemeni missile attacks and drones. While the Americans emphasize that the United States is committed to defending Saudi Arabia, against any external attacks, and that Riyadh is Washington's most prominent strategic ally in the region.
Political analysts believe that Saudi Arabia is trying to be secured by buying arms and relations from international powers that it used to dislike cooperating with them. Had it not been for Saudi Arabia unless it was subjected to American blackmail pressures publicly and for several times, insulting the Kingdom by former US President Donald Trump.
In light of the current tensions and the changing balance of power at the regional level, a question should be asked about whether Saudi Arabia is able to get out of the US control or not?
Source: Almasirah