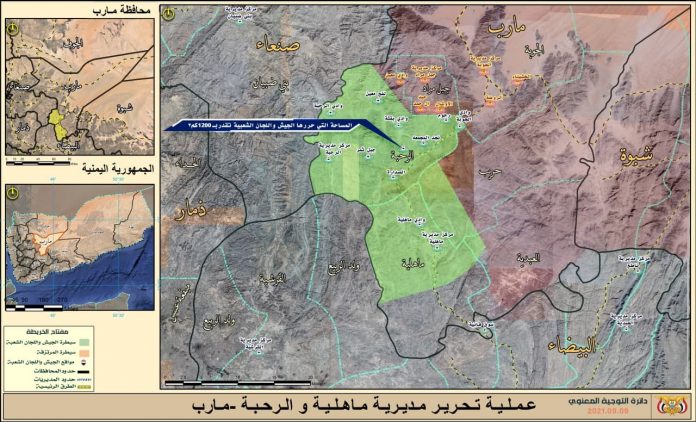 Yemen's Armed Forces spokesman revealed the details of the third phase of Operation al-Nasr al-Mubin in Marib governorate against the Saudi-backed forces at a press conference on Saturday.
Brigadier General Yahya Sare'e said that the Yemeni forces have succeeded in liberating an area of 1,200 square kilometers in their latest advances against the Saudi-mercenaries in Marib, with the participation of the free people of the governorate.
"Our forces launched the military operation in accordance with the operational plan to liberate the districts of Rahbah and Mahliyah, where, only hours after the start of the operation, they made great progress towards the center of the district," Sare'e said.
He pointed out that the aggression's warplanes launched 484 conducted 484 air raids in order to prevent the liberation of the two districts
"151 mercenaries loyal to the coalition of aggression were killed or injured during the operation and some of them were taken captive by the Yemeni Army and Popular Committees," he added.
Praising the role of tribes in the operation for liberation and independence of Marib, Sare'e pointed out that, with the directives of the Leadership, the Armed Forces worked to normalize life with the participation of the local authority in Marib governorate.
He also made it clear that the Yemeni forces are "determined to complete the liberation of all of Yemen's territories, so as to achieve freedom, dignity and independence for our people."
Addressing the mercenaries Sare'e said: "For six years, you have been working with the enemies of the homeland, providing them with assistance and playing a criminal role and national treachery. When will you be Yemeni with your people and country, and when will you be on the side of the nation?"
He called on the mercenaries to recall history and the fate of mercenaries and agents in every country; in Algeria, Vietnam and Afghanistan.
Brigadier General Sare'e also confirmed that the opportunity for the mercenaries still exists to retreat from their pro-aggression stance.
The Armed Forces spokesman concluded the press briefing by saying, "With the advent of the Freedom and Independence Revolution Day, the September 21 revolution, we repeat what was stated in the last speech of the Leader; we will liberate all of our country and restore the areas occupied by the coalition of aggression, and we will guarantee our country to be free and independent."
During the press conference, the Yemeni Armed Forces also showed footage of the third phase of Operation al-Nasr al-Mubin, including the escape of a number of members of the US-Saudi aggression.