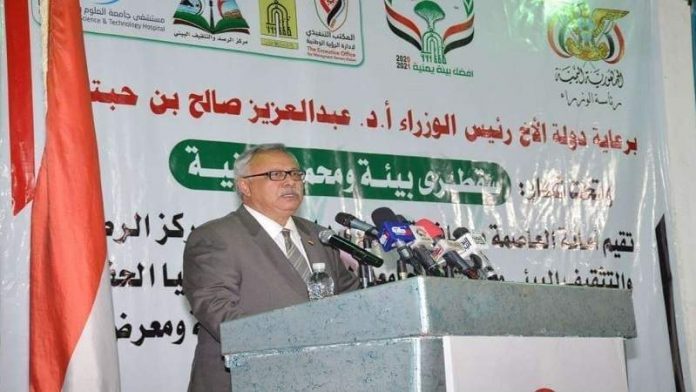 Yemenis no longer accept the principle of bargaining for the liberation of the land, and the occupiers must realize that it is impossible to continue colonization in Socotra or Aden and Mukalla, the Prime Minister Dr. Abdulaziz bin Habtoor affirmed.
Bin Habtoor's remarks came in the closing ceremony of the Environment and Public Hygiene Program, which was held on Saturday in Sana'a under the slogan "Socotra is a Yemeni reserve".
In his speech, the Prime Minister referred to the systematic destruction of the environment in Socotra in particular and the country in general, throughout the period of the US-Saudi aggression, through its apparent deliberate targeting of water and sewage projects, bridges and dams.
He pointed out that the aggression that was launched against Yemen for seven years was not confined to a specific front, sector or field, but rather included all aspects of life. He indicated that this approach confirms it is a blatantly planned aggression that focused on destroying facilities related to improving the environment.
"You are following the media uproar that Saudi Arabia made against Lebanon's information minister George Kurdahi, who uttered the word of truth, and stressed that the war on Yemen is futile. His words were met with respect and appreciation by the Yemenis and the free Arabs and the world,"bin Habtoor said.
"If the war on Yemen is not futile, then what do we call the killing of children and women, the bombing of schools, hospitals, weddings, funerals, and the imposition of a siege on a neighboring people?," he wondered.
Saudis do not want any opinion, any other thought or a free voice, he added, therefore they were disturbed by the word of a free person, when he described the war on Yemen as futile.
Bin Habtoor addressed in his speech the Emirati ambitions that have been seeking and planning to seize the Socotra archipelago since before the aggression. Al-Jazeera Channel revealed that in its "Al-Motahhari" program last week, which contained a huge amount of information, documents and specialists.
The Prime Minister described the UAE as backward and reactionary Zionism, no matter how much it raises the slogan of Arabism and praises it, because its actions expose its words, and it is just a tool in the hands of the Israelis in the region, managing it as they want.
Bin Habtoor added that he had met a Russian thinker in 2014 in Moscow, and found with him a collection of books about the Socotra archipelago. He asked him who the financier was. The Russian thinker said: "A journalistic 'union and organization' in Abu Dhabi, we could not imagine that there are dimensions to the Arabs or thought of seizing an archipelago that Alexander Al-Makdoni had failed to subjugate."
He reminded the invading aggressors that the Socotra archipelago is an authentic part of Yemeni lands that cannot be relinquished at all costs.