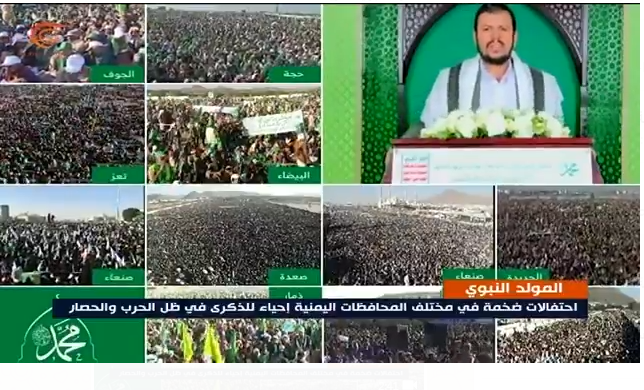 The Leader of the Yemeni Revolution, Sayyid Abdul-Malik al-Houthi has called on the Yemeni people to continue to confront the US-backed Saudi-led coalition which has being waging an aggression on Yemen for over six years, stressing that "achieving freedom and independence is a sacred Jihad and will never be compromised."
"We must legitimately confront the aggression, up until the lifting of the siege, the ending of the aggression and occupation, and the handling of the files concerning prisoners and compensation for the damage," Sayyid Abdul-Malik al-Houthi said in a televised speech to the Yemenis on the occasion of Mawlid al-Nabi al-Sharif, the birthday of the Prophet Muhammad (Peace Be Upon Him).
In his speech, Sayyid Abdul-Malik al-Houthi condemned the so-called Abraham Accords, in which some Arab countries signed collaboration treaties with the Zionist entity.
"Using the name of the Prophet Ibrahim [Abraham] for their satanic alliances and normalisation is a great offense to the Prophet Ibrahim (Peace Be Upon Him)."
The Leader warned that any aggression by the Zionist entity on al-Quds [Jerusalem] would be a step to a regional war."
Sayyid al-Houthi said: "We are part of the historical equation announced by Sayyid Hassan Nasrallah, who said that a threat against al-Quds means regional war."
He reiterated Yemen's firm position on the issues of the worldwide Islamic nation, especially the Palestinian people.