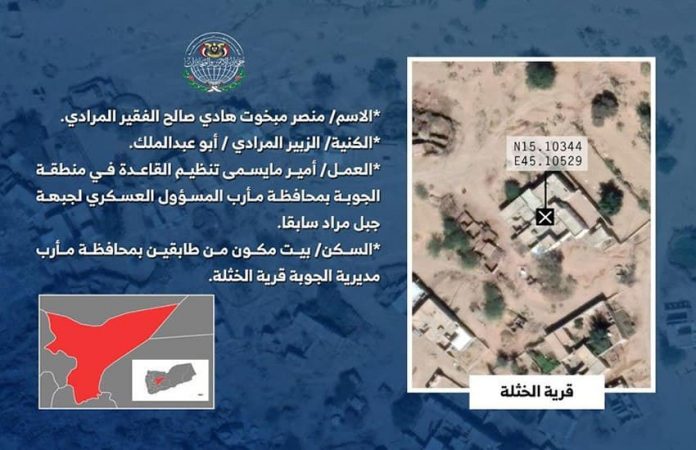 The Security and Intelligence Service in Sana'a had revealed information about the so-called emir of al-Qaeda in the al-Jubah district of Marib province.
In a statement, the Service affirmed that al-Qaeda leader Munasir Mabkhout Hadi Saleh al-Faqir al-Muradi, who lives in al-Khathla village in al-Jubah district, is one of the most important leaders of the organisation in Marib, and an expert in manufacturing improvised explosive devices of all kinds for al-Qaeda.
The statement stated that Munasir al-Faqir's house is one of the most important shelters for important leaders of al-Qaeda, including Khaled Batarfi, the Emir of al-Qaeda in the Arabian Peninsula (AQAP).
The statement revealed there is an integrated laboratory inside the house of Munasir al-Faqir that is used for the manufacture of explosive devices, and on which a team of specialised experts, including Hassan al-Hadrami, Ahmed Zaki, Najm al-Din al-Tazi, Murad al-Athal and his brother Abdul Qawi al-Athal.
According to the statement, the residence is considered "one of the most important weapons stores for al-Qaeda."
The Yemeni intelligence service pointed out that many of the explosive devices were transferred by the organisation's leaders to the Saudi-occupied southern and eastern provinces of Yemen, including Abyan and Hadhramaut, and were planted in separate areas in the Sirwah district of Ma'rib.
Regarding the relationship of Munasir al-Faqir with the Saudi-led coalition mercenaries, the statement said that the engineering team and experts in the manufacture of improvised explosive devices in the Jabal Murad front consists of al-Qaeda members and some elements of the Islah Party, led and supervised by Munasir al-Faqir himself.
The Security and Intelligence Service also confirmed the association of Munasir al-Faqir with some mercenary leaders, including Dhiab al-Qibli, commander of the 143rd Infantry Brigade affiliated with the coalition, Saleh al-Halisi, and the commanders of the Jabal Murad Front, the Bayhan axis and the 26th Infantry Brigade, Mufreh Buhaibah, as well as Abd al-Rab Salem al-Shaddadi, brigade commander with the mercenaries.
The statement confirmed that the security and intelligence services will continue to investigate, in support of the Yemeni army and Popular Committees, "in defeating the takfiri al-Qaeda elements, the aggression coalition and criminal activities."