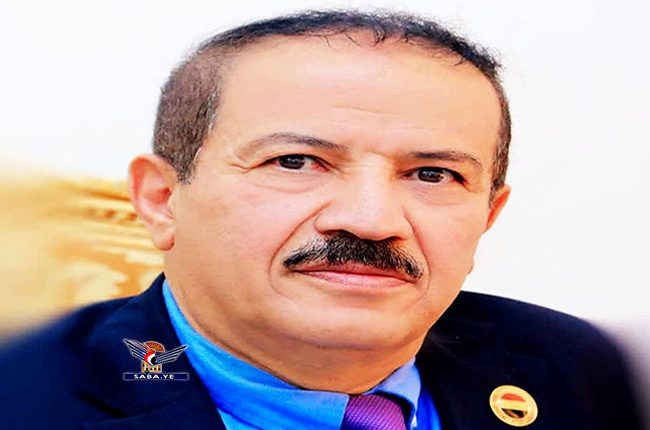 Foreign Minister Hisham Sharaf has warned of the dangers of slander declared by the spokesman of the Saudi-led aggression coalition regarding the ports of Hodeida, which pave the way for targeting these civilian ports.
In a letter he addressed to President of the UN Security Council for January, Norway's Ambassador, Mona Juul, and the Secretary-General of the United Nations and the European Union, Sharaf said "Any ship entering the port of Hodeidah obtains a prior permit from the UN Verification and Inspection Mechanism (UNVIM). Despite this, the US-Saudi aggression forces are detaining ships loaded with oil derivatives and domestic gas and preventing them from entering the port."
He pointed out that this escalation is similar to the recent attacks on Sana'a International Airport, indicating that the Saudi allegations that the ports of Hodeidah were exploited for arms smuggling operations are nothing but a justification for a premeditated intention to destroy these ports, which are the main artery for entering 80 percent of the Yemeni people's needs of food, fuel, and humanitarian aid.
In the letter, Sharaf indicated that "the aggression against Yemen will enter its eighth year in the coming weeks, and the Saudi regime must seize any opportunity available to achieve peace, stop the military aggression, lift all forms of siege, and sit at the dialogue table to discuss all issues of concern to the two countries."
The Foreign Minister also called on the Riyadh government to stop its funding for the militias and outlaw armed groups that work to obstruct any efforts to bring peace unless they are under Saudi conditions, which makes the situation in the Arabian Peninsula and the southern Red Sea unstable and poses a threat to the international peace and security.
The Emirati military cargo ship "Rawabee" was seized as it was carrying a shipment of weapons and military equipment that would be used to kill the Yemeni people, Sharaf explained.
He stressed the importance of the Security Council to assume its responsibilities in maintaining the international peace and security by taking several basic steps that pave the way for peace, including stopping the continuous threats of the aggression coalition and its daily bombing of civilian objects and working to protect the Yemeni people from the terrorism and crimes of the Saudi regime and its allies.
The letter called on the Security Council to issue a resolution binding on all parties to stop the aggressive war and end the comprehensive siege on Yemen.